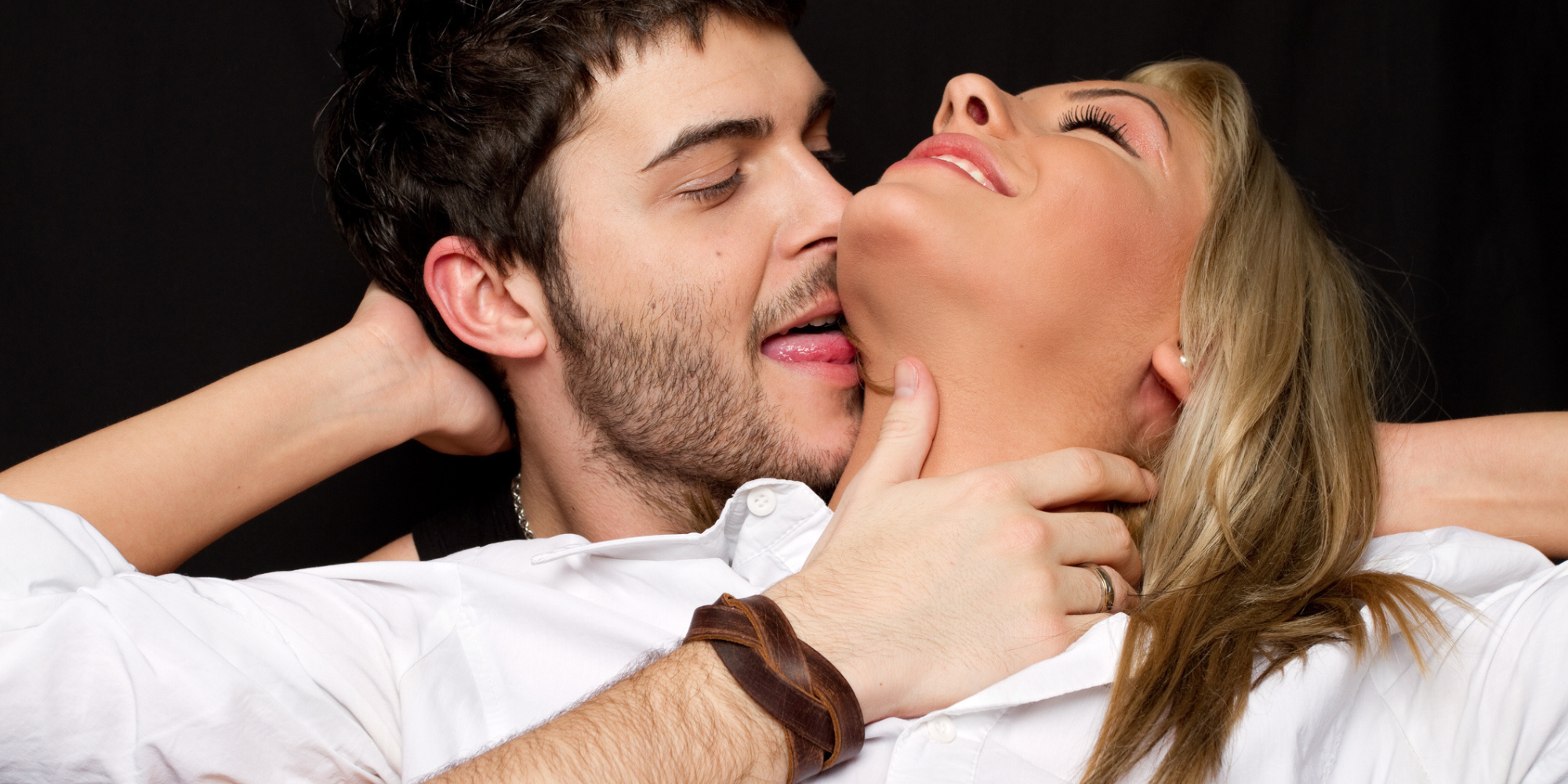 Engaging in Choking During Sex That's Consensual and Pleasurable
Everything You & Your Partner Need to Know to Enjoy Sexual Choking Safely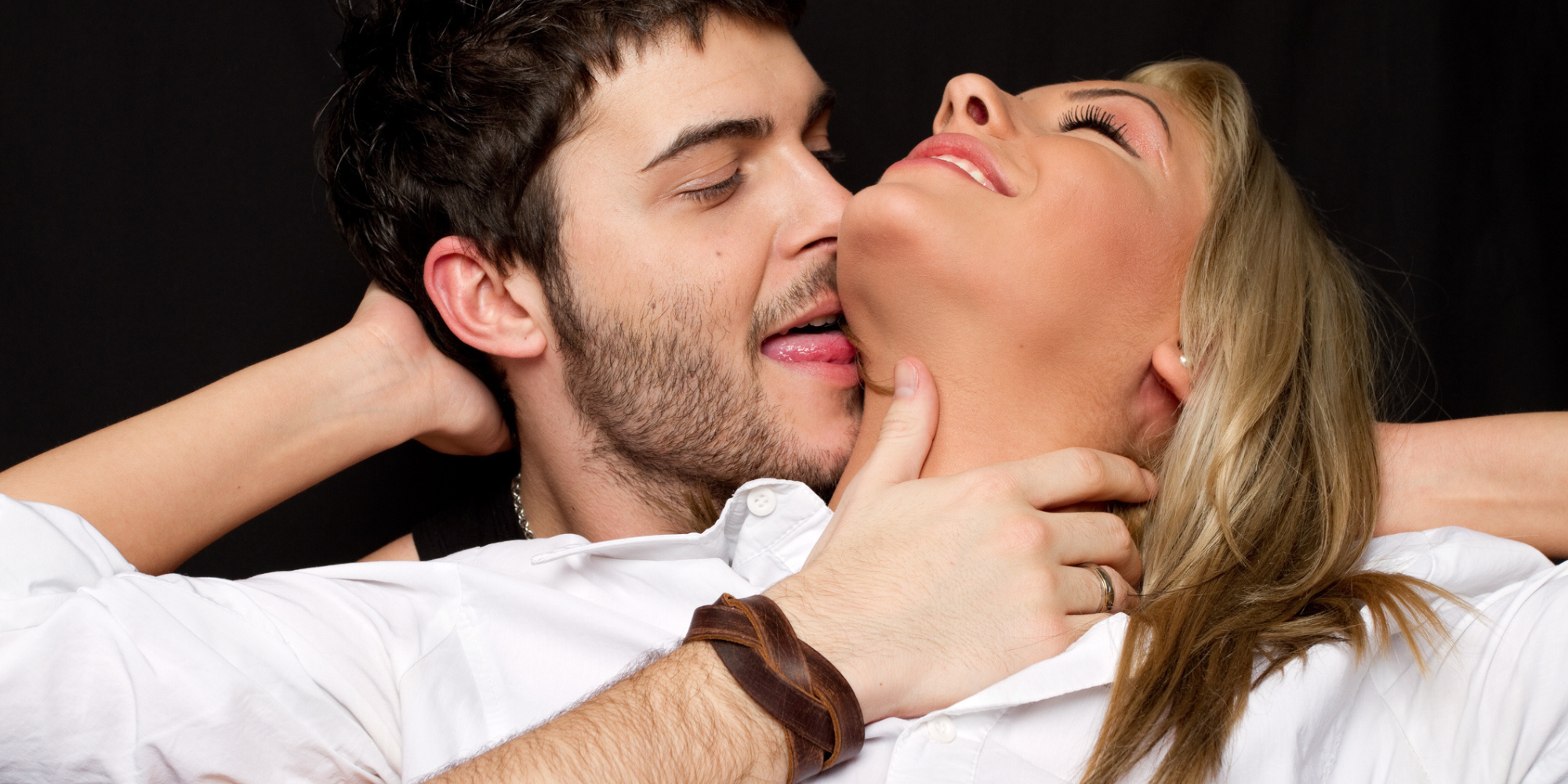 Everything You & Your Partner Need to Know to Enjoy Sexual Choking Safely
There are lots of aspects regarding sex that rarely get covered in the sex education classes when growing up, but things that fall under the umbrella of sexual fetishes and kinks might be the least covered. 
As a result, a sex act like choking — widespread both in porn and real sex — can go totally undiscussed up until it's actually happening to you, whether your partner's asking you to do it to them, or vice versa. 
For all the relative unsexiness of the word, which can bring to mind having a piece of food stuck in your throat rather than something you'd do in bed, choking is actually something that's a big turn-on for a lot of people, whether that's giving, receiving or both. On the flipside, however, it's also something that's quite dangerous, and if done improperly, could lead to injury, brain damage and even death — meaning, it's a highly dangerous sex act. 
As well, being choked without expecting to be can be a terrible, traumatic experience for a person, so it's incredibly important to approach choking from a consent-oriented standpoint. 
To get to the bottom of what choking is and what you should know before attempting it, we spoke to three different sexperts to make sure you don't make any horrific choking-related mistakes. 
What Is Sexual Choking?
"Sexual choking is a form of play in BDSM and kink known as 'breath play,'" says Kayla Lords, a sexpert for JackandJillAdult.com and founder of LovingBDSM.net. "It can be as simple as a hand around the throat with no squeezing, up to and including erotic asphyxiation. Some people enjoy playing on this edge because of the danger factor — whether they're choking their partner or being choked."
Why Some People Like Being Choked During Sex
Considering the negative connotations of choking, as well as the danger factor, it's fair to wonder why someone might want to be choked during sex. However, not only is there a good reason, there are actually multiple ones. 
"People like being choked for a variety of reasons," says Lords. "They enjoy the feeling of powerlessness when their air is cut off. They may enjoy the feeling of their partner having total power over them. Some people enjoy the lightheadedness that comes with lack of oxygen. Others want to struggle against the sensations and their partner's control."
Marla Renee Stewart, MA, a sexologist at Velvet Lips, notes that in particular, "when limiting the amount of air, it can heighten the intensity of an orgasm."
Sex educator Kenneth Play argues that there's another reason entirely: "The biggest reason may be that it can kick the sympathetic nervous system on, switching a person into their fight or flight response, which some people really love adding to their sex," he says. "The switch may help push them into orgasm or just heighten their arousal."
Why Some People Like Choking Their Partner
As with finding pleasure in being choked, people might enjoy choking their partner for a number of different reasons, too. 
"It may give a feeling of power, control and being frightening," says Play, "particularly since it involves such a sensitive part of the body and biological need."
As well, Stewart suggests some of the excitement may come from how much the partner enjoys it.
"People like to choke other people because they like the act of dominating their lover, and/or they like pleasing their lover and would like for them to engage in a different sensation when it comes to sex," she notes. 
Choking and Auto-Erotic Asphyxiation
Auto-erotic asphyxiation, a sex act that's gained some notoriety in popular culture, essentially involves choking yourself while masturbating. 
"Auto-erotic asphyxiation means that you're just choking yourself somehow," says Stewart. "It's the same act, but instead of having a partner, you have it on yourself."
However, there's not a ton of similarities between auto-erotic asphyxiation and sexual choking. 
"The relationship between choking and auto-erotic asphyxiation is a spectrum from one end to the other," says Lords. "The person who wants to play with auto-erotic asphyxiation is absolutely playing on the edge of kink and BDSM, and must understand they're flirting with the worst outcomes. That doesn't mean it can't or shouldn't be done, only that it must be done with great care and a safety plan in place if things go too far."
Play agrees that the two practices aren't exactly as similar as they might sound. 
He says that factors like "the sympathetic nervous system engagement, feeling of breathlessness, restraint, etc. may be similar," but "the safety of the practices can be highly different" because if you're engaging in auto-erotic asphyxiation while alone, if anything goes wrong, there won't be anyone else there to help. 
How to Choke Someone Sexually
What You Should Know Before Trying Choking During Sex
Since choking can be dangerous, it can also be scary if trying to do it without asking first. You wouldn't start waving a knife in someone's face without warning, would you? 
Similarly, even a very light grip or grazing with your fingers can be extremely scary if they don't know your intentions. As a result, you should absolutely not attempt to try sexual choking on a partner without talking about it with them first. 
Furthermore, when you start putting it into practice, it's best to do so by starting slowly and increasing the intensity over a series of sessions, rather than attempting to do a full choke the first time you try it. 
"Before you try erotic choking, understand that you can play with it by degrees and should always start slowly," says Lords. "Resting your hand around your partner's throat without squeezing is a good first step."
And before you engage in real choking, it's also good to be prepared for anything to happen. 
"Erotic choking is not something to play lightly with," notes Play. "It can be very easy to cause serious damage or death if done incorrectly, haphazardly or without taking precautions. Do your research! If you know someone who has the knowledge to do choking safely or if there are classes in your area, go to them."
He also notes that it's important to be aware of your surroundings when engaging in choking, as sudden movements while your hand is around someone's neck could lead to a serious negative outcome. 
"Be very conscious of your balance (a slip could mean too much pressure, a collapsed larynx, damaging the trachea, or death), your hand placement (there are a lot of sensitive parts in the throat, always avoid the trachea), consent (don't just go for the choke like you may have seen in porn), and the difference between real choking and blood choking."
Real Choking vs. Blood Choking
What's blood choking, exactly? 
"Most kinksters who practice erotic choking are actually doing blood choking — a practice that doesn't involve the actual breathing passage but rather the flow of oxygenated blood to the brain, creating a different level of risk but one that may be considered safer," explains Play. "You can learn more about the difference and how to more safely practice through the kink community, and also through many martial arts programs. The most important things to know are researching the actual techniques to learn how to properly do them, and that this is one of the most dangerous kink practices. Know the risks, know the anatomy, know the precautions."
Sexual Choking Dos and Don'ts
Don't Push Your Partner or Yourself Into It
Choking is not something everyone will be comfortable with, whether they're choking or being choked. 
As a result, if one or both of you reveals a discomfort with the idea of performing the act, it's better to back off rather than push to try to make it happen. 
"Negotiate and talk in depth with your partner about the risks you'd be taking," says Play. "Remember how dangerous this can be. If either of you are uncomfortable with the level of risk, then don't do it."
Seek Out Hands-On Learning
First time choking should be more than just playful experimentation. Instead, you should consider doing as much research as you can, up to and including real-life teaching sessions. 
"Practice beforehand." advises Play. "Learn from an expert on how to do it the safer way, such as blood choking or even just hand placement."
Don't Overdo It
While choking might take place within an intense atmosphere involving rough sex, you should try to be gentle when it comes to the actual act. 
"Choking is about limiting their air supply, not cutting it off," says Stewart. "Don't squeeze the main veins on the neck or cut off their air supply."
Prioritize Communication
As with many aspects of sex, communication is key. 
Stewart notes that non-verbal, or at least low-verbal communication, is also crucial in choking since often one partner will have difficulty speaking.
"Have a safe word and have a safe hand signal," she says.
However, Lords notes that you shouldn't rely on the absence of your partner's safe gesture or safe word alone as a go-ahead to keep choking them.
"Don't rely on safe words and safe gestures completely — check in verbally, too," she says. "As the person choking, ask, 
'Is this okay?' and 
'Do you want me to continue?'"
If they don't agree in the affirmative, you need to stop immediately. 
"If your partner becomes non-responsive (from pleasure and sensation overload or lack of oxygen), always stop immediately," adds Lords. "If a partner can't communicate, erotic choking (and any other form of kink play) becomes unsafe."
Don't Put Pressure on the Trachea
The trachea — the main source of airflow in a person's throat — needs to be unobstructed for regular breathing. 
"Don't ever place your hand over the trachea, and especially don't ever put pressure on the trachea," says Play. 
Failing to respect that rule could lead to your partner losing oxygen, potentially falling unconscious and maybe suffering brain damage or death, depending on the severity. That means you must be particularly careful not to place pressure on the center of your partner's throat. 
Don't Neglect the Aftercare
Since choking can be an intense thing to be on either end of, it's a good idea to check in again once it's over. 
As Stewart puts it, "engage in aftercare." 
That could mean talking about what happened, talking about your feelings or simply cuddling together. Whatever form it takes, making sure you're both emotionally in a good place isn't just good practice, it's also a great way to make the prospect of future choking experiences — or any kind of sex together  — more pleasant for both of you. 
The Dos and Don'ts of Hiring a Dominatrix
10 Kinky Sex Acts to Spice Up Your Sex Life
How to Tease Your Partner Sexually
Source: AskMen
Reviews