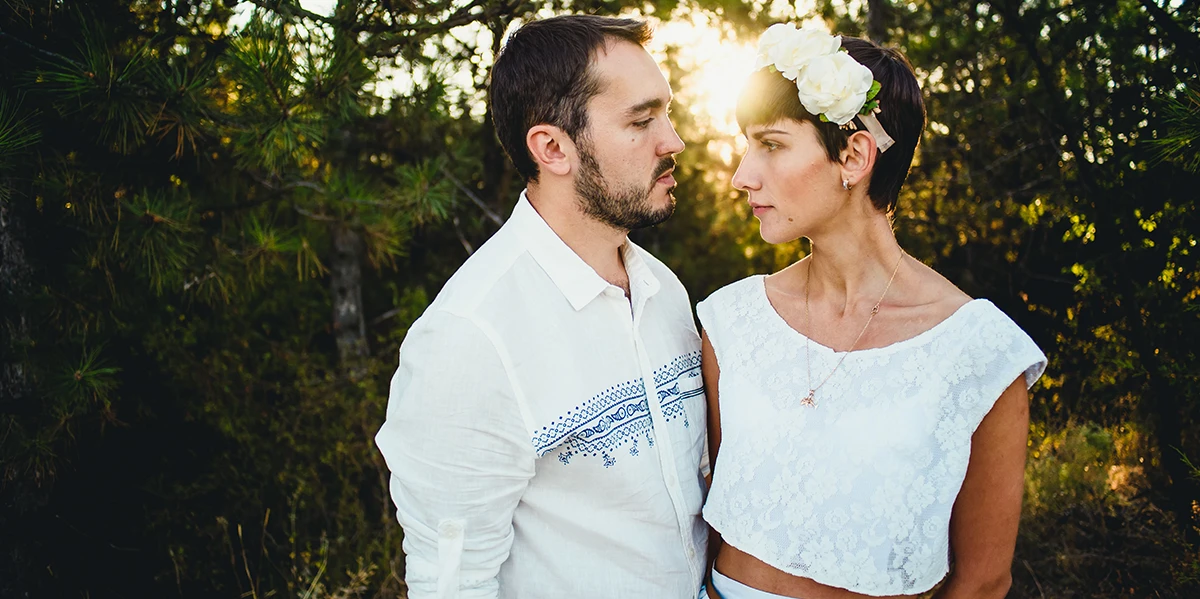 I Didn't Want To Marry My Husband — I Just Wanted To Be Married
My best friend called marriage a date that never ends, but I just wanted a reason to move out of my parents' house.
By Tracey Folly — Written on Aug 06, 2023
Photo: Oleksandr Medvedenko | Shutterstock
My best friend and I were inseparable from pre-Kindergarten until freshman year of high school. We were joined at the hip, and I thought nothing could tear us apart.
Then we discovered boys — or should I say I discovered boys? 
As soon as I met my first boyfriend, I dedicated all the time I would have spent with my best friend to him. I didn't even have the decency to feel bad about it. 
My poor best friend sat home alone while I went to McDonald's, the video game arcade, and the local shopping mall with my new beau.
I was living the life, and I didn't care who I left behind. 
Whenever she called my parents' landline to speak with me, she heard nothing but a busy signal. Our late-night, hours-long phone conversations had been reallocated to my first love.  
Why then did I feel a twinge of jealousy when my best friend found a boyfriend herself?
I'm not proud of this, but I've always been the envious type. So, when I felt myself being replaced, I balked. 
My first boyfriend and I dissolved our relationship shortly after my friend embarked on her own.
Single again, I'd have liked nothing more than to resume my close friendship with her as if I'd never allowed anyone or anything to come between us. 
It wasn't long before I began dating someone new. I'd hoped we could double date and spend time together as a quartet, but it didn't work out. 
My new beau was a terrible person. He was perpetually under the influence of various drugs, including alcohol, and meaner than a rattlesnake, including the Texas diamond-back. He refused to make an effort to enjoy the company of my best friend and her man. 
Eventually, I stopped trying to make group dates a thing. I know when I've been foiled. 
I was disappointed, but I figured I could wait out their relationship and we could become an inseparable duo once more.
In the meantime, I continued to date my unpleasant beau. I figured he was better than nothing, which wasn't exactly accurate. 
At the age of seventeen, my best friend got pregnant and subsequently married shortly after her eighteenth birthday.  
If I'd felt jealous when they were just dating, now I was apoplectic with envy. I didn't want to have a baby. That wasn't the point, but if my best friend had a husband then surely, I should have one, too. Besides, I was older by a full year.  
I decided I needed a husband, stat.  
My boyfriend and I had been dating for two years at that point. Marriage was not on the horizon. Nor should it have been. He was terrible. We were terrible together. 
Naturally, I decided we should get married. 
I didn't think he was husband material; I just wanted a husband. My friend had one, and I reasoned so should I. 
In retrospect, I realize it doesn't work that way. At the time, it made perfect sense.  
Not only was I driven by irrational envy at my friend's sudden turn of events. I thought marriage might be a nice escape from living under my father's roof and my father's rules.  
My father was overbearing and controlling, and it didn't matter if I was technically an adult. Life in his house was his way or the highway, and I was taking the highway. 
At the tender age of nineteen, I convinced my eighteen-year-old boyfriend we should wed.
"It will be fun," I said. "Marriage is like a date that never ends." At least, that's what my best friend had told me, and I wanted to believe her. 
My boyfriend was having trouble living with his easily irritable father and his alcoholic stepmother. It didn't take much to convince him that marriage would kill many birds with one stone.  
I never tried to sell him on fluffy concepts such as everlasting love or soulmates. I needed a husband to keep up with my best friend; he needed a safe place to live.
Between the two of us, we should have been an appreciative match, if not a good one. I sold him on the idea of freedom from our parental units, a motivator for plenty of teens including us.  
The truth is I would have married anyone I was dating at the time. It just happened to be him. He was the last chair in the center of the room when the music stopped playing. It didn't matter that he wasn't a particularly suitable or sturdy chair. He was the only chair. 
Either I married him or no one at all, and the latter was not an option.  
As it turns out, marriage is not always fun. Nor is marriage like a date that never ends.
When you marry someone because you want to marry anyone, your marriage is probably going to be doomed. At least, mine was. 
My marriage ended after five years. It was a blessing. I began spending my free time with my best friend and her husband. We were a mighty trio, not romantically, but in all the ways that mattered. We were inseparable until they separated. 
I took their split hard. Not only had I lost a friend in her husband, I lost her, too. After they announced their separation, she ghosted me.  
When I ran into her years later, I asked her why she never answered my calls or returned my messages, and she told me she was embarrassed to talk about her divorce. 
We could have talked about literally anything else, and I would have been happy. 
More for You:
Zodiac Signs That Are Terrible At Relationships (And Why)20 Little Things Women Do That Guys *Secretly* LoveThe Perfect Age To Get Married, According To Science5 Little Ways Men Wish They Could Be Loved — Every Single Day
Tracey Folly is a writer who has been contributing lifestyle and relationship content to the Internet since 2009. 
Source: YourTango
Reviews