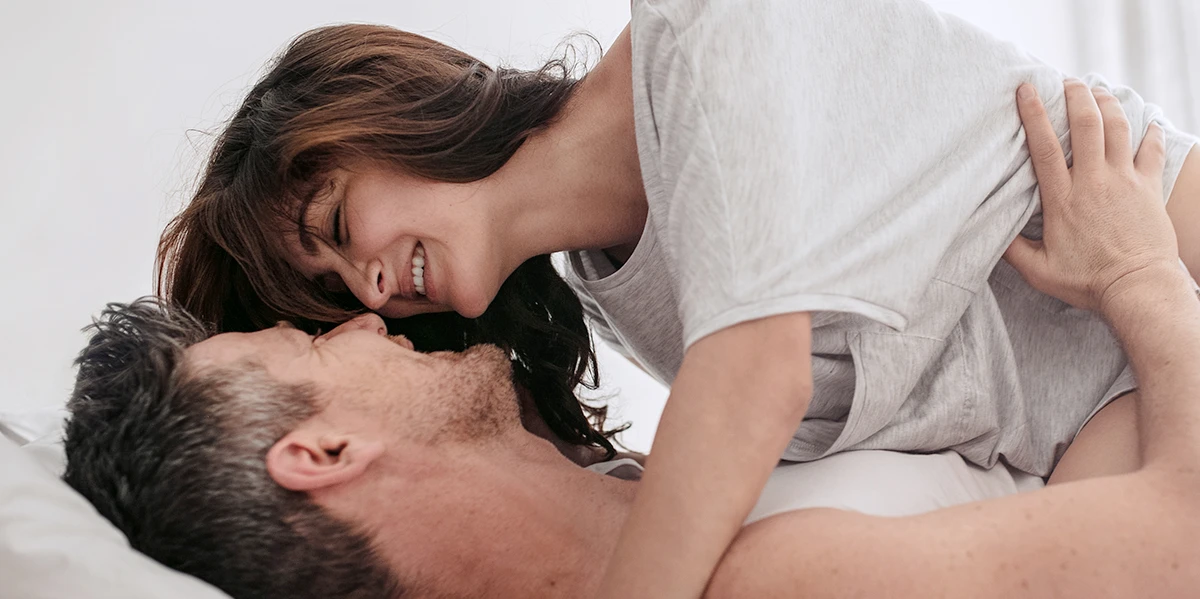 I Spent 7 Days Learning To Love Being Intimate With My Husband Again
Marriage and parenting are hard work, and sometimes being intimate can fall by the wayside.
By Elizabeth Ayers-Callahan — Updated on Mar 25, 2023
Photo: Jacob Lund / Shutterstock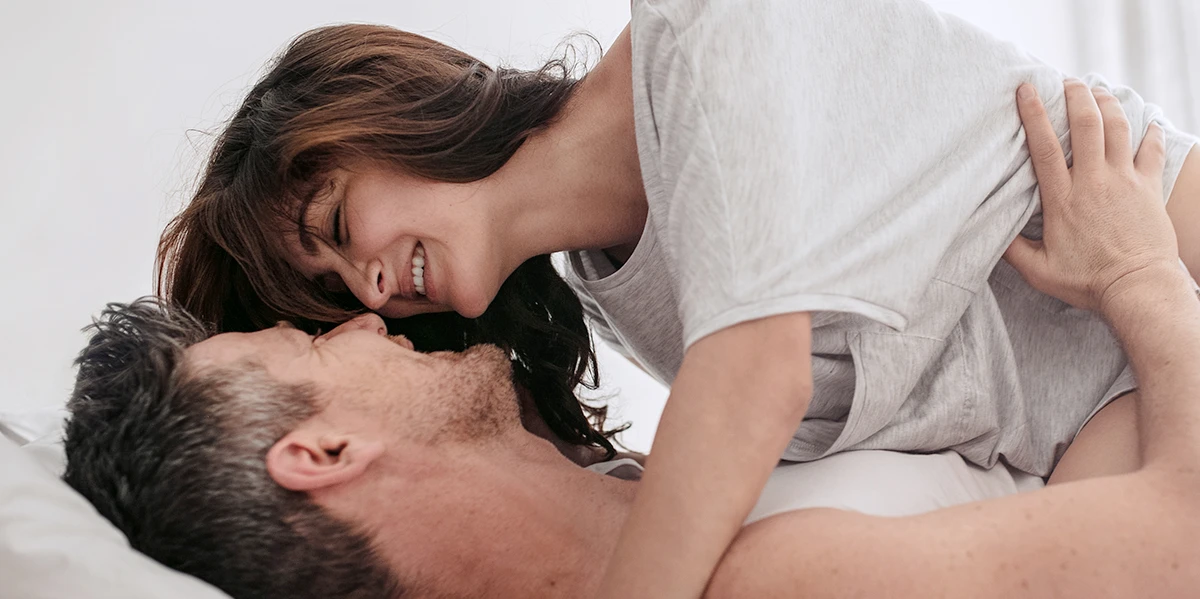 I remember when my husband, Chris, and I would sneak away in the middle of parties to have wild, crazy sex in the bathroom or a closet.
But then life happened.
We've been together for 10 years now, and have two boys under the age of 5.
We used to literally tear each other's clothes off. Now we just fall asleep.
But the truth is: I want that lust with him again.
And, honestly, we need it.
According to the folks at K-Y (yes, the company that makes the personal lubricants that women like us have relied upon for over 100 years), regular sex can actually make you live longer. Yes. And it lowers your blood pressure in a way that "solo time" simply can't.
So I decided to spend seven days focused on learning how to love having sex with my husband again.
I tried 7 different approaches, based on popular expert sex advice.
Here's what happened when I spent 7 days learning to love being intimate with my husband again:
Day 1: Monday
Goal: Schedule sex
Honestly, this was pretty much the last thing I wanted to do.
But Dr. Tina Tessina suggests scheduling sex at least once a week, if possible, and I wanted to try it. "Intimacy keeps you glued together. It's what you need in order to nurture your connection to your spouse. You'll be a lot happier with each other and feel more cared about if you're regularly having sex," she explains.
Before this experiment, there was nothing less sexy (in my mind) than scheduled sex. Did you read what I wrote above? About pulling my husband into public restrooms for quickies? That's the literal opposite of scheduling sex … and it was hot as hell!
But I'm willing to admit that times have changed, and I know Dr. Tessina is right that I need to push myself out of my sexless rut (even if it means sex won't be crazy and spontaneous like when we used to sneak away at parties).
To be honest, I'm wearing Spanx every time we go to a party now anyway. They're ugly, they're uncomfortable, and they're basically chastity belts for women over 35. Also, most of the parties we go to feature bouncy houses or somebody's grandparents. Not exactly X-rated (or even PG-13).
Dr. Tessina suggests remembering "how you connected back then and repeating that. It could be a few words, a gesture, a kind of look or touch."
So to make scheduling sex sexier, I focused on how freaking good our sex is now. Married sex really is the best sex. So I got the kids to bed early and told my husband there was something he was scheduled to do that night … Me.
He didn't object.
Day 2: Tuesday
Goal: Spend a day fantasizing … about him
Over the last few years, I've found myself fantasizing about other people a lot more than my husband.
That sounds bad, but you know how it is, you watch 50 Shades of Grey and you see Jamie Dornan and you feel that tingling in your nether regions, so you go with it. The next time you have sex with your husband, you replay those Jamie Dornan fantasies over and over again.
Now, I know there's nothing wrong with fantasizing about a movie star (or the stranger I saw in the coffee shop with the incredible biceps), but for this experiment, I wanted it to be all about me and Chris.
One suggestion from The Marriage First Aid Kit was to do a nostalgic memory exercise where you, "Pick a shared memory from "the honeymoon period" of your relationship. Discuss the memory and take turns talking about a) sensory memories (sights, sounds, smells), b) what you were thinking, and c) what you were feeling."
So I started fantasizing about him. Like, really fantasizing about him. I thought about the crazy sex we had on our first vacation together, and I thought about his awesomely muscular legs.
And it worked!
By the time my husband got home from work, I was ready to tear off his clothes. Needless to say, we locked our bedroom door that night after the kids went to bed so we could share all of our favorite memories together.
Day 3: Wednesday
Goal: Dedicate a night to massage
In the past, when my husband would start rubbing my back in bed, I took it as a signal that he wanted to have sex, and that immediately made it annoying. I was usually tired, totally touched out, and almost always had dirty hair and unshaven legs.
But Dr. Karen Finn asserts that couples who give each other a massage every single day can have healthier relationships, so I knew we had to try it.
"Massage releases feel-good hormones like oxytocin and reduces stress-related hormones … and skin-to-skin contact communicates a lot — even if the skin-to-skin contact is hand-to-hand or even hand-to-foot.
Massage is also pleasurable for both partners because it allows them each to focus on the shared goals of relaxation, connection, and intimacy."
So the third night was all about massage. I bought K-Y Touch, which is both a massage creme and a personal lubricant … you know, for your intimate areas … so that the option of sex was there, but not a requirement.
The K-Y Touch was great. The more you use it, the warmer and more tingly it gets.
I started by massaging him, in order to avoid the typical "I rubbed your back, now let's have sex" script, and I played upon the previous day's copious fantasies about him while rubbing his shoulders and his back.
By the time it was his turn to massage me, I was really ready to relax. The massage felt great, and I was legitimately excited as his hands moved down my body. That K-Y Touch came in very handy as a personal lubricant, too…
Day 4: Thursday
Goal: Talk honestly about fantasies
My husband is not one of those guys who wants to hear about your celebrity crush or the guy you dated in high school. We are not an "open marriage" type of couple (though no judgment to you if that's your thing).
Because of that, we've never really had a conversation about fantasies. I always worried the conversation would make him feel insecure.
But dating and relationships expert Jordan Gray insists that guys who are the best lovers are willing to talk about their (and their partners) best sex experiences and fantasies. Yes, talking about fantasies can actually make you better in bed. I obviously forwarded that to my husband.
Surprisingly, he was willing.
So throughout the day, we sent text messages with our fantasies. He admitted that he has a fantasy of watching me with another woman, but he's always been afraid I'd think that was an invitation to bring another girl into the bedroom, which he doesn't want. He also worried that I'd think I wasn't enough for him.
Quite the opposite. That's totally one of my fantasies, and, like him, I don't really want to do it.
So when we were going to bed that night, we had a totally dirty conversation about it. It only lasted about three minutes … we had other things to do than talk.
Day 5: Friday
Goal: Text him sexy pics
After spending the previous day texting him sexy fantasies (I cannot imagine he got much done at work that day), I decided to send him a bunch of sexy pics.
You must know, here, that I am not the woman who sends sexy photos. Or takes sexy photos. Or thinks that sexy photos of me would be all that great to look at.
But I wanted to give it a try.
Marriage and relationship experts Susie and Otto Collins insist that sexting isn't just for horny twenty-somethings looking to hook up. It can be great for couples of any age, especially if one travels a lot or is away from home frequently. They also say, "A dirty text can also be a great way to set the mood for a night ahead with a partner you live with and get to see every day."
So why not give it a go?
I admit that this took a little bit of practice. But I thought about the parts of me my husband finds sexy and took a bunch of close-up photos of them. My inner thigh, my neck, and eventually the strap of my tank top fell off my shoulder. The last one was his favorite.
And I have to admit that they sort of made me see myself in a different light.
All day long, I'm just a mom. I'm a pillow to a sleeping toddler or a lap for reading time, and someone is always tugging on my shirt.
But when the kids were napping, I took these pics and saw this body the way I used to. I felt like a sex object … in a really good way.
Day 6: Saturday
Goal: Try something new
Sometimes you just have to try something new.
For us, that meant going back to what we'd talked about as far as fantasies. We'd gotten into the habit of missionary-style sex because of my changing body and our worry about the kids walking in. But since then, we've installed a lock on the door, and I'm getting used to the idea of this post-baby body.
But according to Charlotte and Chris, the experts at Pleasure Mechanics, there are sex positions that are more than just ways to show off your body and your athletic skills. They can actually increase your intimacy. "Intimacy is all about closeness and feeling emotionally together with your lover," they explain. "Sex is not always intimate, even if you are having sex with your long-term partner." They suggest changing positions to increase eye contact, vulnerability, novelty, and much more…
So I got on top for the first time in a long, long time.
I'm not going to say I was instantly back to my old self. But it was fun and definitely something to try again.
He thought it was great, of course. That was a boost to my self-esteem.
Day 7: Sunday
Goal: Don't have sex (just connect)
Yes, on the seventh day of trying to love having sex with my husband again, we didn't have sex.
Not at all.
We just hung out. We watched TV, made popcorn, and held hands. It was great. We were relaxed in a way that we haven't been for a long time.
Yes, we'd had a week of crazy sex and were tired. But more importantly, we were really connected. 
In fact, couples don't need to have sex every single day to have incredible sex lives. Relationship coach Leilla Blackwell says that "having sex every day in marriage (or other long-term relationships) can easily start to feel expected, mechanical, monotonous, … even lifeless."
Yes, feeling obligated to have sex every single day can lead to disconnection and monotony. Instead, focus on connection first. Blackwell suggests focusing on flirting, touching each other lovingly, having fun together, and even sleeping naked together on days when you're not having sex.
And that makes sense. Our week of sex wasn't about checking off an "okay, we did it" box. It was about learning to love sex again.
Since then, sex has become something to connect us, just like it used to.
In other words, this week was totally worth it.
We learned that awesome, connected sex is crucial to our happiness together. But that fire wasn't going to re-ignite without a little effort to spark the flames again, on both of our parts.
As a bonus, we both felt totally sexy and attractive, which I'm willing to admit I wasn't sure would happen for me again. We may not look the same as when we were young and nubile, but we still find each other incredibly hot. 
And get this — the emotional intimacy we've built in our marriage makes our sex better. And in turn, our great sex deepens our emotional connection. On top of that, now we both love giving each other massages. 
Now that's what I call a win-win.
More for You:
What Men Really Think About Small Breasts (As Told By VERY Honest Men)The 9 Sex Positions That Help You Fall In Love (Yes, Really!)6 Expert Tips On How To Be Waaaay Better In Bed3 Erotic Sex Positions That Make Women Orgasm
Elizabeth Ayers-Callahan is a freelance writer focusing on sex and relationship issues whose mission is helping other women feel less alone in their marriages.
Source: YourTango
Reviews