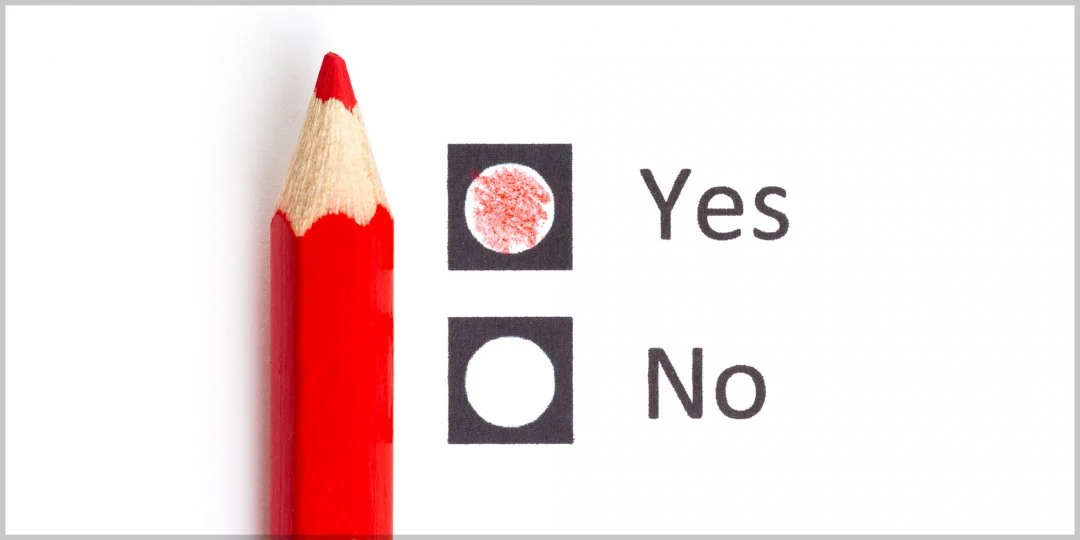 How a Yes/No/Maybe List Can Turn Your Sex Life Around
This Might Be the Single Greatest Trick to Improving Your Sex Life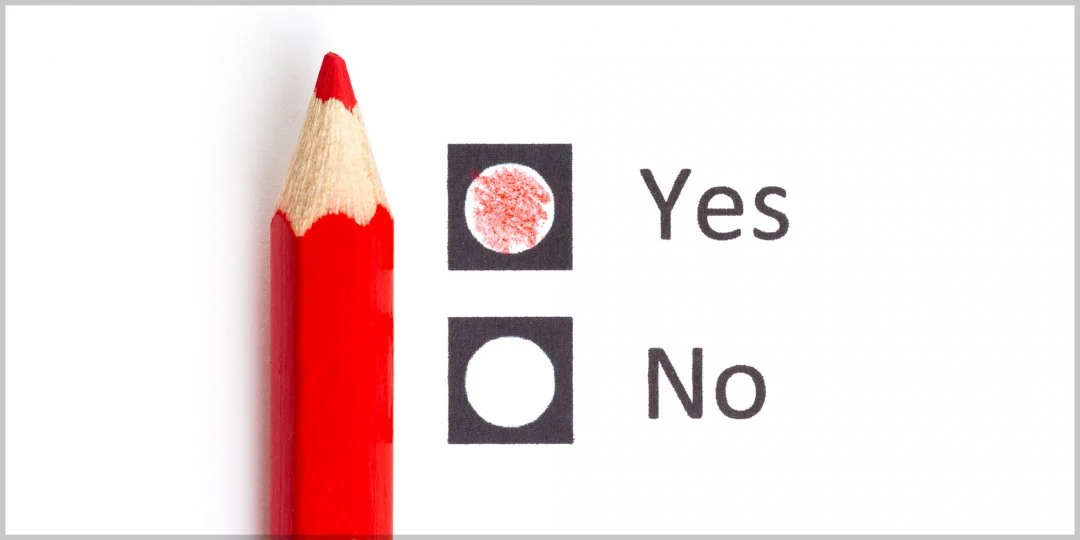 This Might Be the Single Greatest Trick to Improving Your Sex Life
Most people are not very comfortable opening up about what they find arousing.
Even commenters on porn sites are typically anonymous, and those browsing the internet to buy a sex toy online want to know if it'll come in extra-discreet packaging.
But while it's one thing to hide your true desires from the world at large, many people also hide their true desires from their partners, too.
As illogical as that may seem — if you're only having sex with one person, that partner shouldn't know what you find most pleasurable — it does make a certain kind of sense.
So many people are raised to be ashamed of their desire, and anything that doesn't fit into a very vanilla view of sex can be seen as weird or gross. While it's scary to imagine the person you trust feeling differently about you if they don't like what you like, if you're too shy to bring up what you find arousing, you'll never discover what your partner will or won't be into.
So how do you start talking about what you want? As it happens, there's a great tool for this kind of thing that exists in the sex education and kink community referred to as a yes/no/maybe list.
In order to understand how yes/no/maybe lists work, as well as what they can and can't do for your sex life, AskMen spoke with two sexperts (plus made a bonus handcrafted list to help jumpstart your sex life). Check it out:
What Is a Yes/No/Maybe List?
When people talk about married or long-term relationship sex becoming monotonous, they're typically talking about two people who have no experience communicating their desires to one another.
But what would sex look like if you and your partner genuinely understood what each other wanted in bed in a real way? A yes/no/maybe list is a way to nip that silence in the bud by being open, together, about what you like and seeing where it takes you.
"A yes/no/maybe list is a list of sexual activities that a person or couple uses to determine what they want to do/experience/try, what they don't want to do, or what they might like to try if they learn more or if they grow more comfortable with the idea," says Kayla Lords, a sexpert for JackAndJillAdult.com and the founder of LovingBDSM.net.
Jess O'Reilly, Ph.D., host of the @SexWithDrJess Podcast, adds that this kind of list "can help you to communicate about your sexual desires, interests, curiosities and boundaries."
You can use an existing list, such as the one at the end of this article, or create your own.
Single People vs. Couples Doing Yes/No/Maybe Lists
While yes/no/maybe lists are often conceived of as a way for two people in a relationship (or more, if you're polyamorous) to learn about each other's desires, there's no requirement that says you have to do one with someone else.
"Regardless of whether you're single, partnered or in a relationship with multiple partners, considering your sexual desires, values and boundaries can help you to better understand yourself and boost sexual self-esteem," says O'Reilly.
As for the list itself, Lords considers it "a great way to learn more about the sexual activities you'd like to try or fantasies you'd like to explore.
"This can lead you to try new sex toys, watch different porn, or learn about specific kinks or activities," she notes.
Can a Yes/No/Maybe List Fix Your Sex Life?
If you're deep into a relationship and find that your sex life is a shadow of what it used to be, it's normal to start looking for solutions.
Doing a yes/no/maybe list with a partner is a great first step that can unlock a lot of unused sexual potential by identifying things you're both up for. And if your sex life feels stale and musty, then, a yes/no/maybe list can be like a breath of fresh air that helps you uncover areas you're both willing to explore together.
That being said, O'Reilly notes that it's not a one-stop shop for turning your whole sex life around overnight.
"I don't think a tool can unilaterally fix your sex life, but conversations have the potential to," she says. "And conversations are most effective when they're ongoing, as opposed to one-shot deals. I see the list as the beginning of a conversation — not the final destination.
It's also possible to screw things up by failing to bring the right mindset to the conversation.
"Both partners have to be willing to be honest and open-minded," notes Lords. "It's very easy to reject a sexual desire or activity based on a stereotype or something we've seen in porn. It's also easy to make our partners feel shame for the sexual desire we feel."
How to Fill Out a Yes/No/Maybe List
Filling out a yes/no/maybe list is pretty simple: you go through the list by yourself and decide which of the activities fall into which category for you. As O'Reilly puts it:
"Yes (circle) — I want to do this! This doesn't mean that I always want to do it, but I'm open to it. Let's talk about why I want to do it. What do I perceive to be the relational, emotional, physical, erotic, practical and/or spiritual benefits?"
"Maybe (underline) — I might want to at some point. Let's discuss it further."
"No (cross out) — I'm not into this. But let's dive deeper and talk about why. What are my concerns, fears, hesitations, vulnerabilities? This isn't a conversation to convince your partner to do something they don't want to do; it's intended to improve understanding."
However, any methodology that works best for you (and/or your partner) is workable. If you're doing the list with a partner or partners, you should go through the list separately and then reconvene to discuss and compare once you're done. Doing it separately means you won't feel as pressured to match your answers to your partner's, which is important since the value of completing a yes/no/maybe list is in being able to discuss your true desires — even if they don't align 100% with your partner's.
In terms of how to respond, you're largely following your gut instinct. Lords notes that it's good to approach how you respond to each item with an open mind.
"In kink, we often say, 'Your kink isn't my kink, but your kink is OK,'" she says. "Put another way, don't yuck on your partner's yum. You may not be familiar with or interested in an activity (it's definitely on your 'no' list) but that doesn't mean it's wrong or bad."
As a result, if you're doing a list with your partner, it's better to "focus on the mutual yeses or maybes more than the nos. These can be points of commonality. If you only think of how you're not compatible, you may be disappointed."
Particularly, things that are yeses for both of you may be harder to come by — you probably already know a lot of them — but finding a yes for you that's a maybe for your partner under the right conditions (and vice-versa) will likely be a lot easier, and can lead to some interesting discoveries.
For instance, maybe you want to have a threesome badly, but your partner doesn't (but is willing to watch threesome porn with you), or bring up a threesome during dirty talk. That might not be exactly what you were hoping for, but engaging in some form of activity around your fantasy might be a lot more fun than pretending it doesn't exist at all.
Lords also says that it's important to recognize that sexual desire and comfort isn't 100% static.
"Do realize that your answers may change over time," she says. "Sometimes we say no to something because we don't understand what it is or we haven't met a partner we'd like to try it with. Sometimes we say yes to something and realize we hate it, so it becomes a no. Doing a yes/no/maybe list every year or two or with different partners will help you understand each other, but also show how you've changed or grown over time."
And of course, once you're done, take action!
It doesn't have to be right away, but as soon as you both feel ready, you can start trying out things from the list you both said yes to, or a yes/maybe item where you found a compromise solution that worked for both of you. After all, the point of sex is to have it, not to discuss having it!
An Example of a Yes/No/Maybe List
As stated above, no single yes/no/maybe list is a complete picture of human desire, and shouldn't be treated like one.
The below list is lengthy, but not comprehensive; if you don't find your own sex fantasies on there, that's not because they're wrong or weird, but simply because to include everything would be impossible!
"If you know something is missing from the list you're doing, make a note of what it is and make your own list based on fantasies you have or porn you've watched and explore those things as well as what appears on the list itself," says Lords.
Anal Play
Penetration with fingers, sex toy, penis; licking; butt plugs/anal beads, strap-on sex/pegging
Bondage
Spreader bars, stocks, chains, Japanese-style ropes, neckties, handcuffs or thumbcuffs, etc.
Breath Play/Choking
Light or severe, hands or rope/tie
Chastity Devices
Belts/cock cages/etc.
Clitoral Stimulation
Manual, oral, with sex toys, etc.
Cock Rings
Vibrating or non
Creampie
Ejaculation inside vagina/anus
Cross Dressing/Gender Play
With costumes or without
Cucking/cuckolding
Partner present or sharing details later; humiliation play
Dirty Talk
During sex and/or not
Domination/submission
Commands, obedience, etc.
Double Penetration/Triple Penetration
With other partners, with toys, with hands/penis
Ejaculation
Male or female, on sheets, on body parts, etc.
Erotica
Writing/reading/reading aloud to
Fetish Clothing
Rubber/latex/Saran wrapping
Fisting
Anal or vaginal
Food Play
Cucumbers, whipped cream, body chocolate, etc.
Foot Worship
Or shoe/boot worship, toe sucking
Furry Play
Roleplay or with costumes
G-Spot Stimulation
Manual, penile, sex toys, etc.
Gags
Cloth/tape/ball gag, etc.
Group Sex/Orgy
Four or more people
Erotic Dancing
Lap dance, strip tease, etc.
Locations
Kitchen, bathroom, shower, hallway, couch, etc.
Manual Sex
Fingering, handjobs, mutual masturbation
Marking
Bruises, scratches, scars — on different body parts (neck, arms, breasts, buttcheeks)
Massage
Giving or receiving, with oil or not
Menstruation Play
From penetration during menstruation to engaging with menstrual fluid directly
Nipple Stimulation/Play/"Torture"
Clothespins, clamps, etc.
Oral Sex
Giving, receiving or both; face-fucking, face-sitting, etc.
Orgasm Delay
From teasing/edging to full orgasm denial
Pain Play
Pinching, biting, slapping, scratching, hitting, electric shocks, etc.
Phone Sex
Can be voice only or also include video, e.g. FaceTime
Pornography
Watching together, sharing, etc.
Prostate Massage
With fingers or toy; giving or receiving
Public Sex
Indoor (e.g. movie theater) or outdoor (e.g. park); oral, vaginal, manual, etc., car sex
Role Play
From vague scenarios to fully realized characters; with costumes or without;
Rough Sex
Intense but not necessarily painful — hair pulling, grabbing, etc.
Sensation Play
Hot wax, ice cubes, etc.
Sensory Deprivation
Using blindfolds, earplugs, etc. during sex
Sex or BDSM Clubs or Parties
Attending, participating, hosting, throwing
Sex Toys
Dildos, vibrators, strokers, clit suckers, etc. — use on self or partner
Sexting
Sending/receiving sexual photos and/or text
Water Sex
Bathtub, hot tub, pools, lake, ocean, etc.; skinny dipping
Spanking
During sex, over the knee, etc. with hand or paddle/hairbrush, etc., flogging, whipping
Swallowing Semen
From fellatio or post-ejaculation
Swapping/Swinging
With one other couple or with multiple couples/people
Threesome
Together or separately, various gender configurations
Urine Play
On partner, in pants/underwear, to drink, etc.
Video
Making recordings of your sex (full video or erotic photography)
Voyeurism/Exhibitionism
Watching others have sex or being watched while you have sex
How to Explain Your Fetish to Your Partner
The Wildest Sexual Fetishes You've Never Heard Of
How to Ask Your Partner to Initiate Sex More Without Making It Awkward
Source: AskMen
Reviews