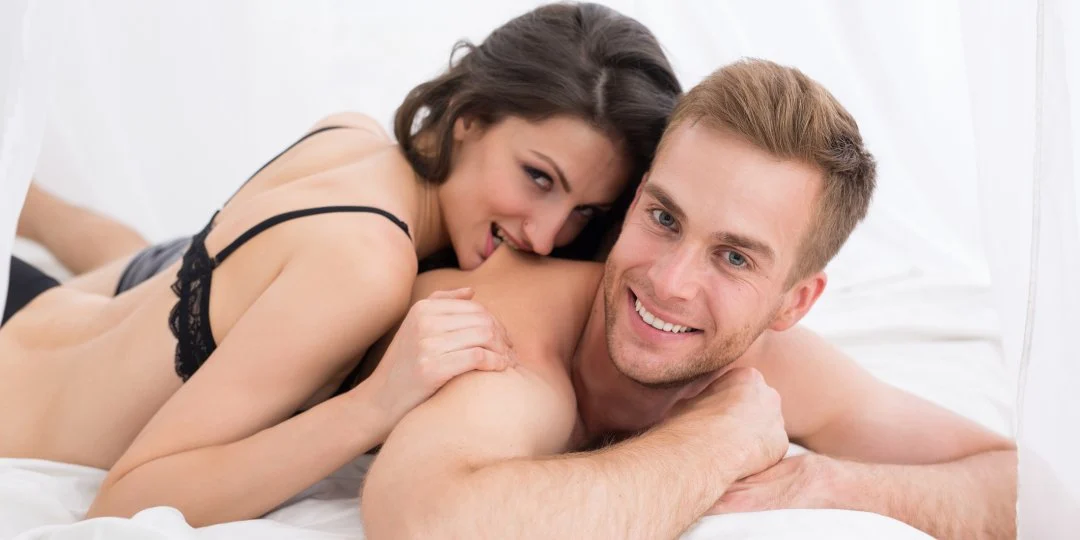 A Guide to Biting During Sex
There's a Fine Line Between Sexy & Scary When It Comes to Biting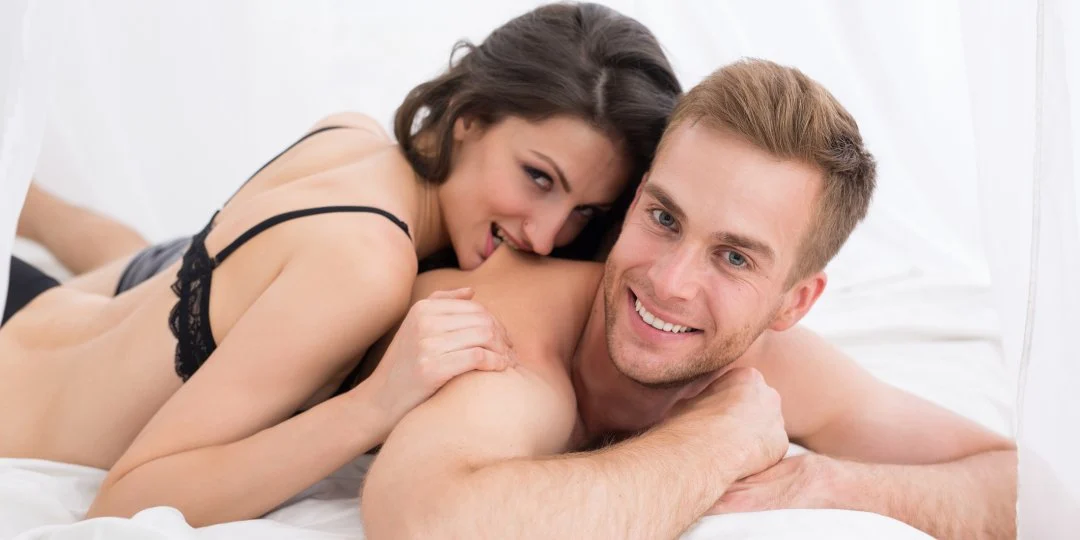 There's a Fine Line Between Sexy & Scary When It Comes to Biting
Sex and eating are both considered basic human needs, and as such, are often compared to each other. 
Furthermore, the language we use to describe having sex is often just as poetic as the language we used to describe digging into a delicious meal, dripping with adjectives and sensuality: words like "juicy," "mouthwatering," "finger-licking" and so forth. 
Even if you're not trying to set a tone, there's a fair amount of crossover just in terms of the words we use. We refer to cunnilingus as "eating someone out," or we might say, "I can't wait to taste you later" when dirty talking. However, some people take the similarities between sex and eating in a bit of different direction with a desire to bite their partners when sexually aroused.
Depending on how experienced you are (and how kinky you are), biting during sex might be something you know all about, or it might come as a complete shock. The technical term for it is "odaxelagnia," though you're unlikely to hear that in the bedroom. Terms like "biting fetish," "biting kink" and even the related "vampire fetish" are probably more prevalent. 
In order to sink your teeth into the topic, AskMen spoke with three different sex experts about how sexual biting works, and how you can work it into your sex life.
What Is Sexual Biting?
Sexual biting is just that — biting. There's no attempt to break off a part of your partner, chew it and swallow it. It's simply the use of your teeth and jaw to cause a painful sensation, and to possibly leave a mark. 
"Sexual biting can be as simple as a nip on the ear, or as intense as sinking your teeth into a partner's shoulder or butt and biting down as hard as possible," says Kayla Lords, sexpert for JackAndJillAdult.com and the founder of LovingBDSM.net. 
Why Do People Engage in Sexual Biting?
Sex is about pleasure, but there are lots of people who like to mix a little pain in. 
Whether it's spanking, nipple tweaking, back scratching or something more intense like erotic electric shocking, there are tons of different ways to make sexual sensations more intense. 
Biting falls into that category, largely speaking. Though it may technically be painful, for many people, a little bit of pain actually amps up the pleasure instead of counteracting it. In that sense, sexual biting is just a means of causing your partner a little bit (or a lot) of pain. 
As well, there's a strong psychological aspect to biting, too.
"People engage in sexual biting for multiple reasons," says Lords. "It feels animalistic and primal, which might be how you feel during really intense, passionate sex. Biting is about power and control."
Often, that control takes the form of one person primarily biting the other, but as Mackenzie Riel, a sexpert for TooTimid.com, points out, both partners biting one another "can be an exchange of power or a sign of showing affection."
Why People Like to Bite Their Partners
"They may love causing intense sensations for their partner, or playing with a fantasy," says sex educator Kenneth Play. "They may also love the primal instinct of it, both the fear created and the actual biting."
Why People Like Being Bitten
"The pain of biting, some people to the point of bleeding, can cause arousal or a sense of euphoria," says Riel. "This predominantly comes from a boost of adrenaline that can lead to arousal. People who enjoy pain will sometimes begin to associate certain forms of pain as relief, rather than a negative response to something."
Play describes being bitten as "both a fantasy experience (think about every vampire fantasy), and a tap into primal emotions (fight or flight)."
"Others may just love the intimacy of it," he adds."
Dos and Don'ts of Sexual Biting
Don't Rush Into It
As with anything sexual, it's better to go a bit too slow than too fast. Even if you or your partner is very excited, don't rush into full-intensity biting right away.
"As with any kind of sexual act, it's best to ask your partner's consent to bite them," says Riel. "Not every person has the same kinks, and it's best to make sure you're both on the same page before continuing. If your partner is suggesting things that you wouldn't enjoy or are afraid of in terms of BDSM or biting, let them know that. It can be extremely enjoyable for some, but not everyone."
If they are OK with engaging in biting, whoever's doing the biting should be gentle to start with. 
"Don't break skin immediately," advises Riel. "If you're both into it rough, ease into it. Going full force can cause injuries and scars that just won't be sexy for either of you."
Establish Boundaries
With the act of biting, it's important to have a sense of what is and isn't OK before getting into it.
Once you've begun biting, follow-up questions are a good idea. Riel suggests asking things like "'Does this hurt?' and 'Is this too hard?' just to double check you're not hurting your partner."
While those questions might be particularly important the first time you engage in biting, that doesn't mean that you'll immediately understand your partner's pain tolerance for all future biting sessions. In particular, if you're biting a woman, hormonal fluctuations during her menstrual cycle will likely have a significant impact on how sensitive her nipples are.
Riel also thinks that picking a safe word (or safe gesture, if the person being bitten is being gagged in some way) is a good idea. 
"With any form of BDSM, it's good to have a safe word for when the action gets too intense," she says. "Choose a word that you both will recognize if the person being bitten is in any kind of pain, when the bite-ey says it, stop any and all forms of biting. This way, you can establish limits for when you're engaging in this type of sexual play at another time."
Don't Bite Carelessly
Unsurprisingly, sexual biting can be done wrong. Even if you start slow with established consent and boundaries, it's still possible to cause real harm if you're not clear on which parts of the body can be bitten and how. 
"Ask where it is OK to bite," says Play. "Some people love having their shoulders bitten, others hate the nerve that can get tweaked there. Some people love having their inner thighs bitten cause of the erotic location, while others are sensitive there."
Talk to your partner about "the difference between a light nip of a bite (less teeth, less hard), and full chomp (all your teeth, biting hard enough to leave an imprint," he adds.
Meanwhile, Riel thinks that adding some variety beyond different intensities of bite can really amp up the experience.
"Incorporate kissing and licking into it," she suggests. "Don't just bite everywhere with no seduction. Kiss and bite periodically on their body to show how into it you are, and to build anticipation. 
Be Careful About Leaving a Mark
Some people consider erotic marks to be a big plus of sexual biting, but for others, they're a no-no. For that reason, you shouldn't take it for granted that your partner is dying to have evidence of your biting left over after the sex has ended. 
"Ask about marks and bruises," says Play. "You'd be surprised how easy it is to leave a huge bruise with one bite, so ask if marks are OK."
But what about if your partner really is begging you to leave sex bite marks all over them? Love-bite sex can be a bit more tricky, as you'll want to make sure not to mark up any parts of their body that are usually exposed. That also means picking spots that will be good for a bite from a logistical point of view, according to Lords. 
"If you're going to do a painful bite that leaves a mark, pick a meaty section of the body," she suggests. "The shoulder is common, but you can also bite their butt which has a large muscle and plenty of fat."
An Ode to the Power of Love Bites
Things Women Secretly Want in Bed
Understanding the Art of Rough Sex
Source: AskMen
Reviews