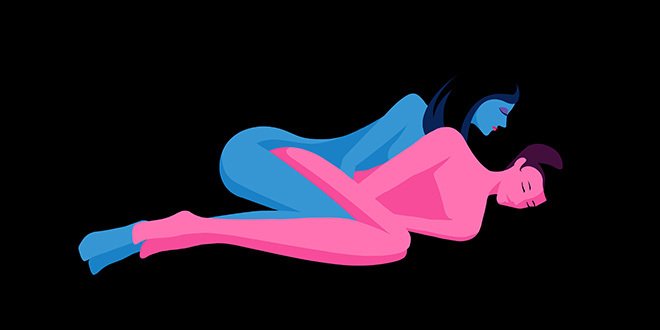 A Case for Lady-Ladles: Why Being Big Spoon is Awesome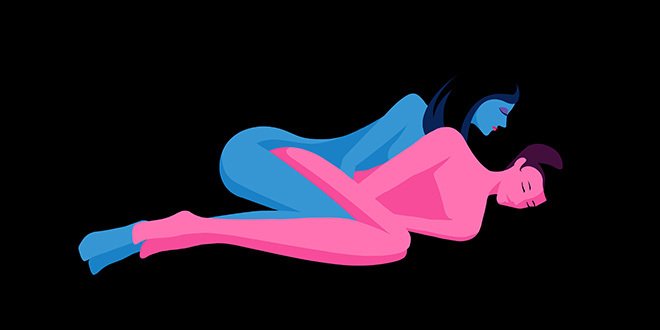 For sleeping, sex, and everything in between, spooning is one of our favorite positions. Why we refer to a 'big spoon' and 'little spoon' is a bit of a mystery if you've ever looked at 2 actual spoons nesting within each other, but we digress.
Generally, male partners take on the role of 'big spoon,' but seeing this as the only configuration means missing out some amazingly sensual and sexy possibilities.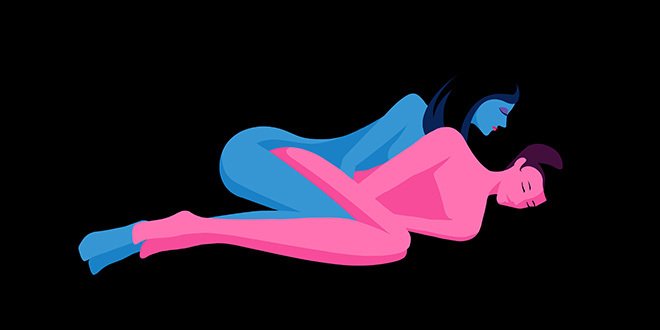 1. A Sweet Sensation
While cuddling up close is definitely one of the major attracting factors of spooning, putting a little space between you can be great too!
By hooking your top leg around your partner's waist and leaning back, you can really dig into their back muscles when giving a hurts-so-good massage—while using plenty of warming massage oil too, of course.
You can also experiment with other types of sensation play, from tracing naughty words with your finger nails to lightly tickling with a feather teaser.
2. A Pleasurable View
There's nothing sexier than knowing that you fuel your partner's fantasies, and if they're game for the exhibitionist nature of 'being watched,' then spooning can make for an amazingly intimate position. Positioning yourself so you can look over their shoulder and arm (either by scooting a bit above them or by putting pillows under their body) you can whisper all sorts of sweet nothings (and kisses and bites and licks and nibbles) to their neck and ears while watching them pleasure themselves.
By bringing your own favorite clitoral vibe into the mix, your partner will be able to feel you against their back, thus offering some erotic encouragement—or a challenge—as you both reach orgasm.
3. Manual Admiration
Of course, if you're too impatient to simply watch, you can always take things into your own hands, literally.
Using silk ties, you can comfortably restrain your partner while lavishing your attentions on them. We suggest tying both wrists to the headboard as you can then make sure that your partner stays still, and you can brace against their body as they wiggle in pleasure. Remember to start painfully slowly, working from the very tip, and then gradually farther and faster.
4. The Toy Behind Every Great Man
If your partner has a prostate, one of the best  ways to take advantage of being big spoon is to engage in some slow, sensual prostate massage. It can be with your fingers—though, if you're much smaller than your partner that may mean your face will be trapped somewhere in the middle of their back.
By using a remote control prostate massager such as HUGO, you can control the intensity of the vibrations while using the remote—which can vibrate in unison, on other erogenous zones on both of your bodies for a truly shared pleasure. If you'd prefer to use prostate massage as a warm up to pegging, then a slim wand like the BILLY is the perfect thing to get your partner hot and bothered!
[related_article id="17646″ float="right" size="full" target="_blank"]
Lea Marsden
Source: Lelo
Reviews