5 Signs Your Booty Call Is Really Your Soulmate
Are you and your hookup buddy more than buddies?
By Rebecca Jane Stokes — Last updated on Jul 24, 2023
Photo: Siam Stock/ Shutterstock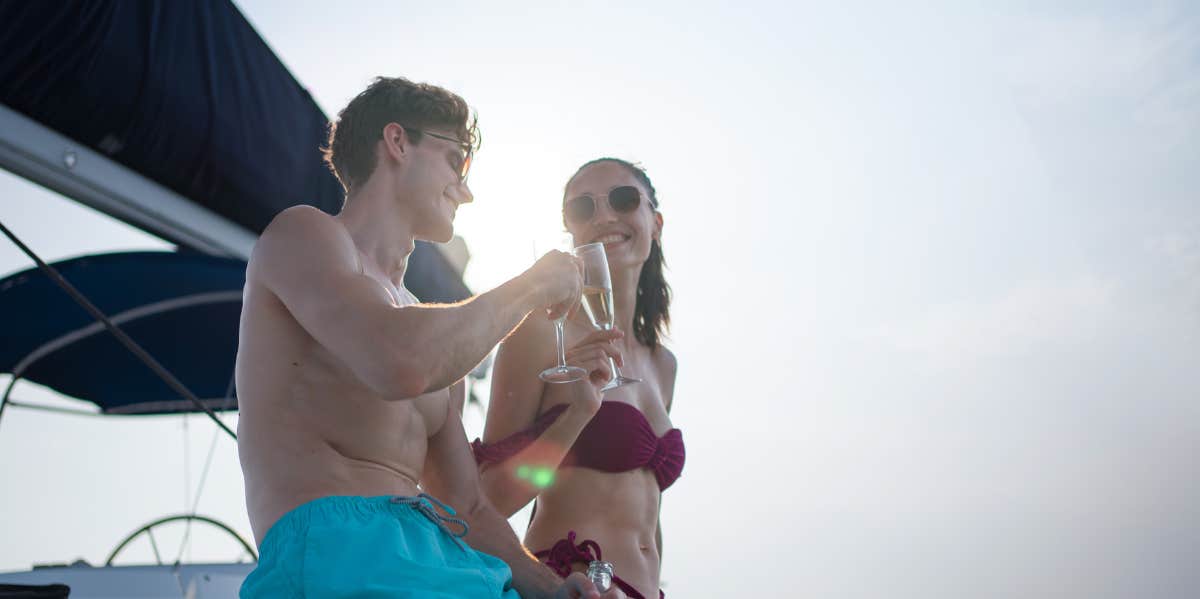 So you know that guy you have saved under your phone as "Booty Call Boo"? 
Yeah, about that. 
We both know his name is Steve. 
We both know you have met his mom.
We both know that one night the two of you fell asleep on the phone together just to hear each other breathe.
Paging Captain Obvious:
This guy is officially no longer just a booty call.
This guy is your boyfriend.
And quite possibly…
This guy is totally your soulmate. 
If you're trying to figure out if your booty call is going to stay just a booty call or become a REAL relationship, here are five things you need to look out for. 
Here are 5 signs your booty call boo is really your soulmate:
1. You want to see him for more often
One of the best things about having someone you can always ring up for a 2 am booty call is the lack of pretense.
You don't need to ask him how work's going.
You don't need to make small talk about the new speakers he just bought or feign interest in his deep and abiding passion for Minecraft.
You just text "Where u at?" and in no time at all you're on your back or he's on his. 
It's a beautiful thing. 
Or should I say, it's booty-ful? 
Here's a big sign that the boo you're booty calling might be more than just a nice piece of tail.
You find you actually want to spend time with him not rubbing your genitals together.
(That's how sex works, right?) 
A funny scary movie comes out, and you're seeing if he's game.
It's rainy outside and all your want is to chill with ice cream and him on the couch and he's there.
When your booty call becomes your everything-but-booty call, that's how you know there's more to the relationship, or at least, that the relationship is evolving.
Let's be real. 
If a man is cool to hang with you when there's no sex in sight and you're wearing your least flattering pair of sweatpants, it just might be forever love. 
2. You talk or text all of the time
There are a lot of unspoken (but well-practiced) rules when it comes to the art of the booty call.
One of those is having well-established boundaries.
If a booty call is going to stay a booty call and not become a relationship, boundaries are a must. 
One of these boundaries is restricting your texts and calls to the summoning for a hot session of sex. 
If you or the person you booty call violates these boundaries, it could mean that the two of you are hoping to make something more of the relationship.
A booty call should be texting you penis pictures, not adorable memes featuring sneezing penguins he found on Tumblr and thought you might like. 
When the two of you find yourselves in constant contact, it's because you WANT to be communicating more.
If you want to be communicating more, it could mean that there's something more to what the two of you have besides tits and ass. 
Could he be your soulmate? Only time will tell! 
3. You avoid dating other people
Sometimes you might be the last person to know that you're in love with your booty call and that they are in love with you.
You both think you're playing it cool and playing the field, but the truth is the real reason neither of you is in a serious monogamous relationship is that you're waiting to be in a relationship with each other. 
So there you are, claiming you're looking for love, but you're shooting down viable dating prospects and so is he.
That's a definite sign that your vagina isn't the only thing your Booty Call Boo has captured, he has also captured your heart. 
Daaaaaw. Romantic!
And also, gross. 
4. You go to him whenever something big happens
Do you know what soulmates do that booty calls don't do?
Support you in times of trial and tribulation.
Would you ever think about calling that piece of beefcake you met one night at the bar when you got laid off from work?
No.
Because that would be crazy.
You don't know that guy just because your vagina became intimately acquainted with his penis once or twice (or three times). 
A booty call is just about sex, it's just about feeling good and bringing a smile to your face.
When the person who is your booty call is also the person you run to when you need a shoulder to sob on and cover in snot and mascara, then they are MORE than just a booty call.
They're someone you love, and potentially they are your soulmate too.
5. You don't have any drama
There is this misconception that I want us all as women to do our part to vanquish ASAP.
True love doesn't have to equal loads of stress and drama.
Don't listen to Shakespeare, sometimes the path to true love DOES run smoothly! 
When you're dating someone and it's characterized by angst and tears and worry and anxiety, that's a bad foundation for a relationship to grow solid legs on. 
But if you find that your relationship with your Booty Call Boo is developing into, well, a relationship without any major bumps or hurdles or heartache, that doesn't mean it isn't real. 
If anything it's proof that what you have is SOLID and grounded. 
Is it as exciting as The Notebook?
No. 
But that doesn't mean it's any less real. 
More for You:
Zodiac Signs That Are Terrible At Relationships (And Why)20 Little Things Women Do That Guys *Secretly* LoveThe Perfect Age To Get Married, According To Science5 Little Ways Men Wish They Could Be Loved — Every Single Day
Rebecca Jane Stokes is an editor, freelance writer, former Senior Staff Writer for YourTango, and the former Senior Editor of Pop Culture at Newsweek. Her bylines have appeared in Fatherly, Gizmodo, Yahoo Life, Jezebel, Apartment Therapy, Bustle, Cosmopolitan, SheKnows, and many others.
Source: YourTango
Reviews