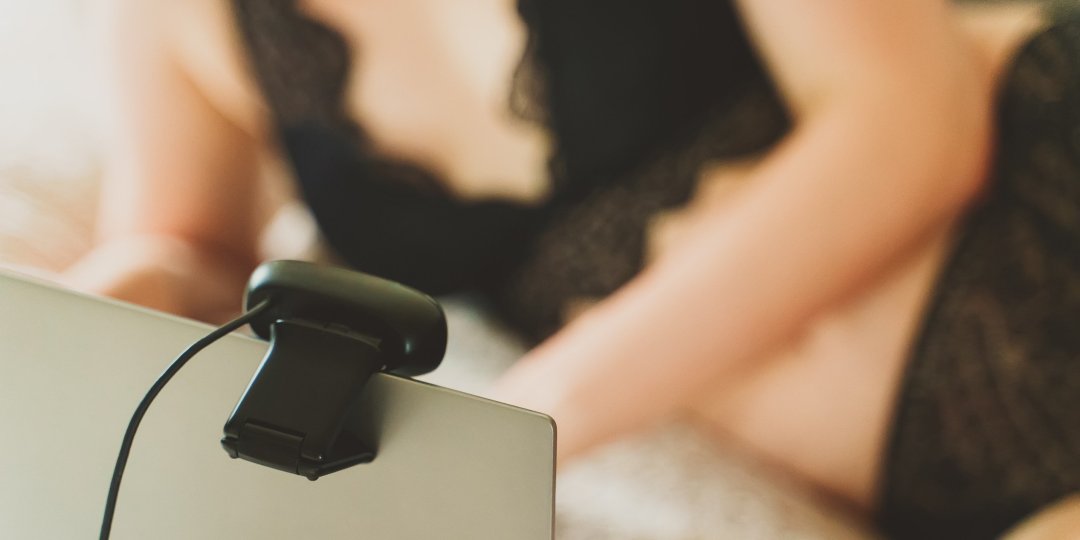 What Is Cam Sex? Here's What You Need to Know
What Is Cam Sex? Here's What You Need to Know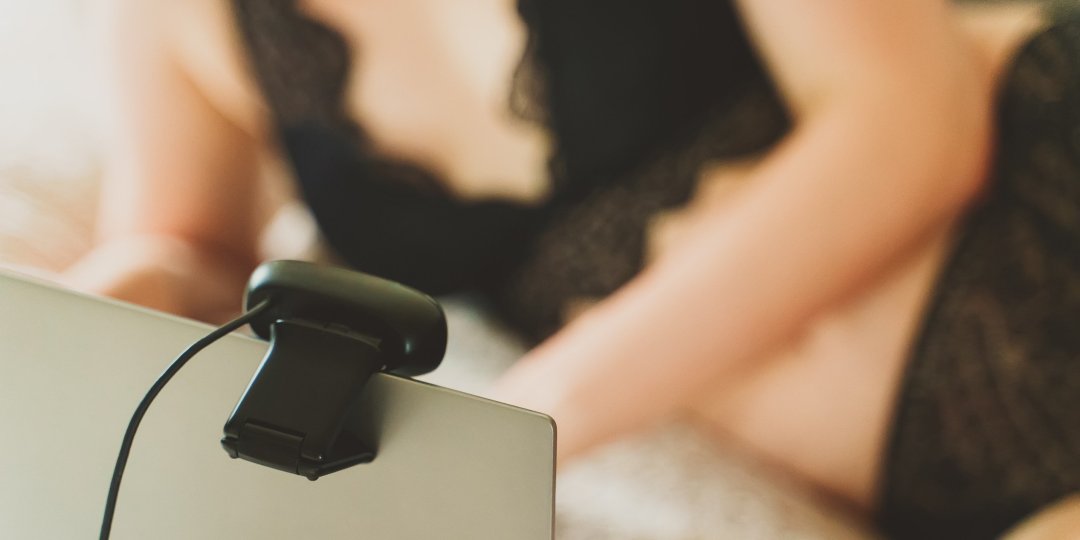 What Is Cam Sex? Here's What You Need to Know
Maybe you've seen ads for them on your favorite porn site. Maybe you've heard people talk about them on social media or in forums. Maybe you've only dreamt of the concept — getting to engage sexually with an attractive person via video chat.
What you've been dreaming of are called cam sites, and they're where people go to engage in cam sex.
For the uninitiated, cam sites are a "porn-adjacent" fixture in adult entertainment. Cam sites have existed since the mid-'90s. Once considered just a niche, cams are now regarded as a powerful sector unto themselves in the adult industry, as they provide models with incredible autonomy and allow fans to find kindred spirits in a digital community unlike any other.
The popularity and success of cam sites has arguably helped pave the way for mainstream social platforms, such as TikTok, Twitch, Facebook, and Instagram, to embrace the power of live streaming for general audiences too.
On a cam site, performers stream live via webcam to anyone who'll watch them. The real-time chat feature alongside the streaming window allows viewers to chat not only with each other, but also with the model during a live show. Depending on the user's preferences, they can continue to interact in the model's "public chat," or, if the model agrees, they can opt to "go private" and enjoy a one-on-one show with the model — but that's just the tip of what camming is about…
If you've ever been curious about the NSFW side of livestreaming and would like to explore an erotic alternative to porn, you'll find guidance here from two top cam models, a licensed sex therapist, and representatives from an award-winning cam platform.
The Difference Between Live Cams and Porn
 Zuzana Kasinski, talent manager at Cherry.tv, sums up the differences: "Cam sites are highly interactive and give you the possibility of real-time digital sex; porn is passive—it's just another 'movie night.'"
Sex therapist Mark Cunningham, M.S. MFT, meanwhile, notes that "Camming is such a beautiful evolution from porn because there's the potential for relationship and interpersonal feedback that you cannot get from a recorded performance."
Compared to real-life sex, he adds, "there's also no need to worry about STIs or pregnancy; and consent is generally open and honest."
Speaking of honesty, there's also a chance for even the most introverted fans to speak up and make a connection. As Cherry.tv's CEO Paul Ashworth explains, "cam sites allow users to connect with people that maybe they would never work up the courage to approach in real life. On a cam site you also get to see someone live, someone who is 'real' and not necessarily 'acting,' which has really wide appeal."
Camming has always been a diverse and inclusive space as well. Ashworth adds: "Adults from all walks of life do cam modeling, so you never know — the person living next door to you could be a cam model.
As one might imagine, cam sites allow users and models to walk the line between fantasy and reality in a unique way — and also to negotiate the line on their own terms.
However, "it's important to look at how you feel in that space and assess whether you can have a healthy relationship with it," advises Cunningham.
"Problems often lie in not creating a boundary between fantasy and reality," he says. "For example, expecting someone to behave in a similar way to camming power dynamics while on a date [in real life] without navigating discussions around what you both want in a relationship could lead to assumptions and hurt feelings."
In other words: adult entertainment is never meant to be a reflection of, or a substitute for, healthy real-life relationships offline. You should never attempt what you see on cam (or in porn) unless your real-life partner enthusiastically consents and you've clearly communicated on this front.
The Benefits of Enjoying Live Cams
According to cam model Jess_boots, "[Camming] is a great way for a new girl to get into the adult industry in a fun and safe way, and it's also a great way for models and users alike to be able to express themselves and be accepted."
And what if you have a fetish or a kink? Come on in! You're bound to find countless other fellow adults who partake, or otherwise complement your fantasy life.
"It's easy to search for someone who shares your interests," says Cunningham. "Cams are a safe space to release shame and access a kink or fetish with the sex worker's consent."
Ashworth agrees, noting that "A cam site is the perfect place to explore your own fetishes and kinks. It's a place where everyone is accepted and there is zero judgment," and you can use keywords to find people who share your interests and desires.
"Make sure to check your cam site's specific guidelines on what is and is not allowed," however, says Jess_boots. "Some sites have stricter rules as to what's acceptable. As a viewer, you always want to make sure to ask and never demand."
She adds: "It's best to inquire about certain fetishes in a tip note or a private message," and no matter what "always respect the model's limits; fetish play is only fun if everyone involved is comfortable."
And to be clear, "kink-friendly" applies to users and models equally: "Models are really encouraged to embrace their individuality," says Kasinski. "It is all about kinks and niches these days."
On a more practical note, "Models can make money at home on their own schedule," says award-winning performer and cam model Ashley Fires. " And users get the benefit of getting to know their favorite models on a more personal and human level than they would just watching films. Camming can really be a win-win when everyone is respectful."
What Really Happens on Cam Sites
"Thanks to innovations in sex tech, a wide variety of interactive remote-controlled sex toys make all manner of erotic fun possible. "Lovense is really the golden standard of vibrators for most cam sites," says Kasinski. "Models can set it up so that their toy vibrates at a certain intensity or duration, depending on how they are tipped."
Ashworth adds: "Models and fans can also enjoy a variety of different show format options, depending on the platform. We offer group, private, and spy shows — and it's always entirely up to the model how they want to cam and what they feel comfortable with."
And in that "comfort," there's also space for non-sexual activity too.
"Believe it or not, nudity is a small part of the experience," says Ashworth. "The true experience of camming is within the conversation and the chemistry you will have with the model — that is what will enrich your whole experience."
Cunningham observes that many users turn to cam sites looking for someone to talk to: "People are looking for connection and acceptance. Sometimes people can struggle with the conditioning or values of their society, religion or family of origin, which can lead to them having conflict with the sexual fantasies or behaviors they are most aroused by."
Ergo, cam sites are places where a person exploring their sexuality can find not just physical gratification, but social validation of their desires. On a more mundane level, a person coping with loneliness, depression, and/or lots of daily stressors might find themselves genuinely looking forward to the moment when their favorite cam model logs on and gives them the space to vent or the compassionate listening ear that they need.
And sometimes, as we see below, the emotional avenues opened by cam sites are two-way streets…
What Cam Models Wish You Knew
 "Camming is an extremely intimate experience," says Jess_boots. "As a model, your followers become friends and even a support system. When you're having a bad day there's always someone there to talk to and pick you up — and you're there for them too. It can be very therapeutic."
Nevertheless, don't ever be fooled into thinking that a cam model's job is easy.
"Sex work is absolutely work," Fires explains. "I really wish people knew how much time and effort it takes to perform in front of a camera. The pre-show application of makeup, the energy to stay engaging — and also how hard it is to ignore the many negative comments we receive daily. So please: Be polite and don't take for granted the performers who bring you pleasure. Tip them!"
Kasinski agrees: "Models work really hard to earn their money, they spend eight-plus hours a day online on the camera. They also have to make sure they understand the technology (such as OBS) to ensure they bring fans quality streams and continually find new ways to keep their cam rooms interesting as they build followers."
Making the Most of Your Cam Site Experience
"When entering a model room, imagine you are really in the room together," advises Kasinski. "Always greet the performer, ask them how their day's going, compliment them. Take the time to read their bio and familiarize yourself with what they're into — and use [that knowledge] accordingly. Tipping and being respectful really goes a long way. Models are more likely to open up and create a fun experience for the fans who understand this."
Lastly, Ashworth suggests: "Remember, too, that cam models are regular people; they have lives outside of camming, so always respect boundaries. If you are open-minded and kind, camming can open up a whole new world of sexual fantasy and fun."
The Forgotten History of the Phone Sex Industry
How to Have Cybersex
The Best Sexting Apps
Source: AskMen
Reviews