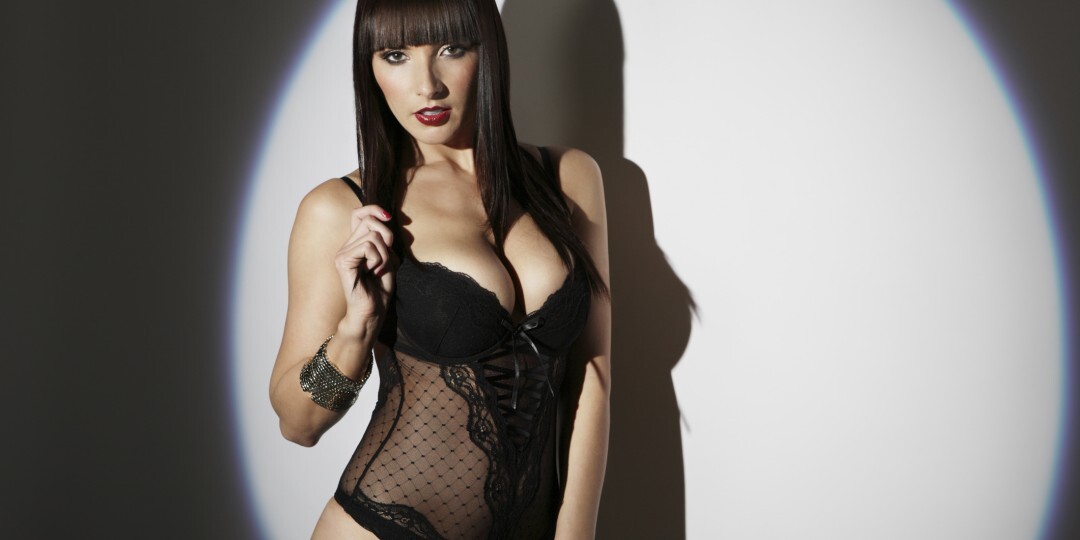 It's been a long week. Not only were you in back-to-back meetings nearly every day, you were also under the gun for several deadlines. To top it all off, you got into a fight with your brother and had to cancel last-minute with your buddies. Plus, your girlfriend had a super stressful week too, meaning you were shorter with each other than you typically are, and managed to find yourselves bickering over… basically, nothing. Anything and everything that could have gone wrong felt like it did, and now that the clock has struck 6 p.m., you're ready to make a mad dash out the door and to your sofa for a much-needed brewski and nap.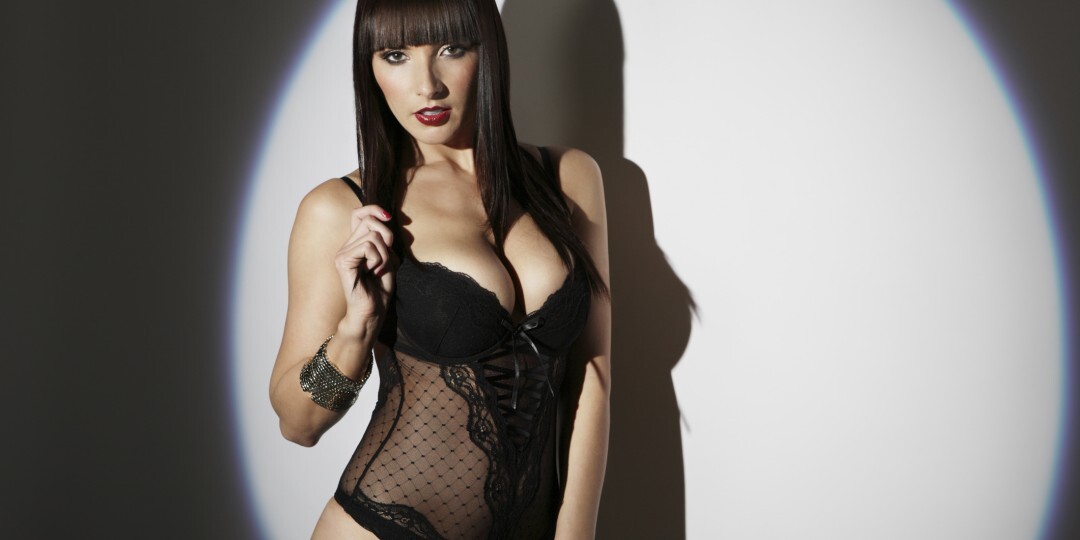 But when you turn the key to your house, prepared to let out a massive sigh and put on some sweats, you notice your — sexy, gorgeous — girlfriend sitting at your dining room table. Only she's not in her normal go-to attire, but instead… she's dressed up like a waitress. And then you see there are snacks on the table. She stands up and you see that her outfit is completely see through — and OMG — she's not wearing any underwear.
"Can I take your order, sir? Won't you have a seat?"
Turned on yet? While it might seem like the start of a cheesy porno, this kind of scenario is not uncommon for those couples who like to push the envelope, but it is a relatively simple act to develop into your typical sexual routine. Role playing during sex can be an extremely hot, fun and mind-blowing way to build intimacy and trust with your partner, while also having incredible orgasms. From how to talk about it and exactly what it is to reasons you might want to try it and some common misconceptions, if you're intrigued by role playing, the top sex experts share the dirty little secrets to getting it going… tonight:
1. What Is Role Playing?
In certain movies, television shows and yes, the porn videos you watch on repeat, you've likely witnessed couples acting out their sexual fantasies. You've also probably seen it go wrong, where they break character or it gets a little too weird (or awkward) and it kills the steam that was building. Just like having sex, role playing can be messy, and it requires practice (and patience) from both parties. But before you can even begin to ask for role playing in your sex life, you need to get really clear on what it is exactly.
Sex expert and commentator Colleen Singer puts it like this: "Role playing can take many forms, ranging from living out a secret fantasy, to more elaborate games with actual storylines and costumes. If you've been with the same person for a long time, sometimes you just need a little extra fire in the bedroom – and that is OK. One very effective way to do this is role playing."
Dr. Dawn Michael — a clinical sexologist, relationship expert and author — adds that in its most authentic form, role playing is simply "taking on a character other than yourself and acting it out, playing a role."
While much of role playing does involve some sort of costume, sexy lingerie or some other get-up, role playing can take many forms within your sex life. You could talk with an accent, you could incorporate dirty talk or be more aggressive than you normally would. The point is that you're challenging your lifelong (or long-term) partner to have sex with someone new and open themselves up enough to try on a different character. The thrill of being with 'a stranger' that you actually know and love is very appealing for many couples.
2. Why Do People Role Play?
you're one of the lucky — and rare — guys if you look at your wife or girlfriend of several years and still find her incredibly attractive, sexy and appealing every single day. That gotta-have-you chemistry fades for most people over time, especially when adult responsibilities are brought into the relationship, like cohabitation, full-time jobs, and even kids. Many couples seek different ways of spicing it up, exploring their boundaries and introducing new and exciting to keep things interesting and well, sexually successful.
"The one drawback of sleeping with the same person over and over and over again is that it is easy to get stuck in a rut. Luckily, there are many ways to change things up without going too far outside of your boundaries and comfort zone," Singer says. "From new positions to new places, sex never has to get boring. Role playing is one way to shake it up a bit!"
Another perk? If your girl — or you! — are anxious about how you might look in certain positions or afraid to be as dirty as you actually want to be, role playing is a great way to give yourself the freedom and the liberty to be whoever the hell you want to be. Who does not like being given a free pass to be freaky, after all? "For a person who feels self-conscious about a new position or about unhealthy sexual ideal, it gives them the permission to not be themselves for a time and try new things as an alter ego. Role play is fun and sex is suppose to be fun," Michael explains. "I have advised couples to pretend that they are meeting someone at a bar and to role play that while renting a room in the hotel to have sex. It adds excitement to long term relationships."
3. What Are The Benefits Of Role Playing During Sex?
In addition to making your sex life more invigorating and rewarding, role playing also has some personal benefits, too. In fact, if you let yourself think back to what you fantasized when you were a teenager and just starting to become amazed with the female body and the very thought of sex (much less the actual act of it) — role playing can help you go back to those moments in time when everything was tantalizing. In many ways, it is those sacred thoughts that you always felt ashamed to admit (even though you shouldn't have) that actually get your blood pumping, your breath heavier and your body ready for plow.
"There are many benefits of romantic and sexual role playing. Role playing is all about fantasy. Most people have had in their minds a special fantasy that they wished to have enacted but really never confessed to anyone," Singer says.
While you might have dreamed of your teacher naked while sitting through math class or wondered about your neighbor, women have a slightly more romantic imagination. Your partner might have dreamt of a knight in shining armor or a bad, bad boy who was turned good by his love — and yet, is still pretty rough in bed. As a couple, you can use role playing to celebrate your sexuality and the unique fantasies that make both of you tick. "Women may have always dreamed of being saved by a knight in shining armor or having hot sex with Zorro. Men on the other hand may be fascinated by exotic dancers, the innocence of a nun, or even being the naughty school boy," Singer adds.
Really, when we talked to the experts they were pretty much in agreement that as long as both you and your girl are on board and on the same page of what you want to get out of your role playing adventure, there isn't a downsize to trying it on for size. "Experts on sex and relationships often recommend role playing to perk up marriages and add a bit of spice. There are really no disadvantages when it comes to adding a new idea that will revive a stale relationship, and if this requires some role playing, then couples should certainly explore it! Added bonus: Role playing also helps with communication skills," Singer says.
As Michael adds: "Try out a new persona and get into the role with dressing, setting the scene and acting it out, the worst that can happen is the two of you have a good laugh together!"
If you're still feeling a little uneasy — or she is — consider role playing in the special way that Michael describes it: "Most people don't see that they play different roles every single day, a husband or boyfriend, co-worker, son, brother and the list goes on," she says. "Why not try out a sexy lumberjack? An executive? A policeman? It's just for one night and you can stop at any point."
4. What Are Some Common Role-Play Fantasies?
So you've talked about it, you're ready to try it… but you're both looking at each other with blank faces on what exactly you should dress up as, act out and do? "Start with simple role play games that sound like fun. Avoid trying heavy games like BDSM right off the bat — work up to that level of intensity as your comfort level increases," Singer advises.
Not to worry — experts have some steamy ideas for getting the (role playing) party started:
1. 'Meet' For the First Time
One of the more fun ways to try role playing is to not only get out of your bedroom but get out of your house, too. Michael suggests meeting at a bar and acting like you don't know each other at all. Dress differently than you usually do, splurge for a wig. Come up with a new profession, a separate background and if you're feeling extra inspired, try out a foreign accent. Go through the whole process of meeting each other for the first time: flirt, ask about one another's history, make jokes. And if you want, have sex right then and there in the bathroom. You can do the groundwork and he can make the move, or vice versa. "I had one client that bought a sexy red wig and surprised her husband with a new woman coming to sweep him off of his feet," Michael says. "Role play can also be about power exchange — if you have one person who always initiates sex, then change it up and take over."
2. Book A Hotel Room For the Night
Similar the act above, have her pretend she's an escort the evening. You can meet her at the hotel room and go through the whole discussion: This is what's included, this is what's not, etc. Since you're in a committed relationship, you might skip the condom part (unless you wanted to be extra authentic), but the point's that you're away from your everyday life, so you're more open to being wild, adventurous and of course, loud! Best of all, as Singer notes, breakfast in bed is an option the next morning when you're back to being your true selves again.
3. Play Professor and Student
More likely than not, you've had a crush on a teacher at some point, where it was high school, college or graduate school. Or, if you're an instructor of some form, you've likely had a crush on one of your students. it is kind of like a power play and it makes sense to why it is a common fantasy for many people. Singer's suggestion? Go for it! You can choose who wants to be in charge (meaning they'll serve as the dominant and the teacher) and who wants to listen and learn. This can be especially helpful for couples who want to work on their sex lives and reach orgasms, because you can really play off of the 'instructing' part of the role playing. You can tell her exactly where to move her head, how hard to ride you or how hard to suck. All of those details can be part of your um, lesson plan, and you can play them up as much or as little as you would like.
4. The Stripper
Even if you've been to dozens of bachelor parties and strip clubs in your time, chances are, you've left pretty disappointed. Not only are the women typically not quite your type, but it can feel a little insincere and meaningless when you don't know the person at all, either. That is why a role playing fantasy involving a stripper might really, really turn you on. Even if your leading lady isn't quite the dancer, she does not need to me. All that is required of her is putting on something skimpy to take off and the right attitude of letting it all go and going for it. Since men are typically very visual in comparison to women, this might be more for your benefit than her's, so make sure once the clothes fall off, that you take time to please her and get her in the mood, too.
Singer also challenges you — if you dare — to try your own hand at revealing it all. While it might be more humorous than terribly sexy for your girlfriend, it shows you commitment to her needs by putting yourself out there. You can also incorporate different moves that ignite her sense: think ice cubes, feathers, warming lubricants, blindfolding her until you're completely undressed, and more.
5. On-Camera Porn Stars
Though we must put this disclaimer out there (because, you know, the internet these days) — there is something really hot about seeing yourself have sex. Once you get past feeling uncomfortable seeing your body and hearing your voice, you might enjoy — and um, learn from — watching you and your girl go at it. The key here — to make it as successful and smooth as possible — is to set up the scene. you're not just a couple doing it in front of a camera. You're actors in a porn movie and you're supposed to be over-the-top with your moans, your positions and your happy endings (yep, this is when you can ask her to let you give her that facial). Make sure you're not just paying attention to motion though — you should also be careful with the details of your settings, just like a high-budget porn film would do. Ensure the lighting is flattering for both of you — and you're not in fluorescent lights that show every dimple, cellulite and beauty mark. Light candles if you need to and figure out how you're going to go from making out to oral sex to intercourse to finishing everything. Putting together the storyline, plus actually having sex all contribute to this role playing option.
6. Fireman, Policeman
Maybe it is the amount of work that goes into staying in shape so you're strong enough to fight a fire or catch a bad guy. Whatever it is, your girlfriend probably finds first-responders pretty attractive, and for good reason: they are the ones who save lives, who work hard to push against evil and well, are often the 'Knight in Shining Armor' types that have most women's eyes rose-colored and glassy. Even if you don't have a six-pack set of abs and you'ren't able to lift her over your shoulder with ease, you can fake a rescuing scenario that will get her heart racing (and her clothes falling off). Think about her standing in the kitchen and calling '911' (a.k.a. — your cell phone) and asking for help because her 'oven is on fire.' You can swoop in — in costume, of course — and fix the situation and then turn to her, seductively and ask her if there are any other fires that need to be tamed or fanned. It might seem a little corny (because it is), but it is the kind of role playing that is been classic forever. Why? It is simple, it gets things moving and hey, it probably means having sex on your countertop.
7. Massage Therapist
As you already know by now, there is so much more to an enjoyable sex experience than merely getting your jollies off. From the way her body feels against yours to the pressure you place on her hips to the scents, the wetness, the vibration — it's your senses that make your sexual experience go from zero to sixty. Your partner's touch is one of the most addicting parts of your relationship and it transcends beyond the bedroom to hand holding, cuddling on the couch and any other opportunity you have to be closer to one another. Why not play off the simple splendid pleasure of touch and pretend you're paid to massage people? The bonus of this is your ability to use oils and lubricants to make it extra sensual. After you finish rubbing her back, you can flip her over for the main event. Or, if you want her to do the kneading and chopping, you can encourage her whole body to get out (and liberate!) your kinks. Think: her plump breasts pressing against your back as she whispers in your ear, inquiring about the pressure.
RELATED: How To Give Her The Sexy, Sensual Massage Of A Lifetime
8. Surprise And Delight
While the above scenarios definitely require a little planning, role playing does not always have to be a big show-and-tell or require a calendar invite to make time for the action. In fact, some of the most rewarding and thrilling role playing activities can be spontaneous and full of pleasure. One easy way to pull this off is when you're ordering takeout food for dinner. As soon as that order is confirmed, look at your girlfriend and ask her if she would like to take on a challenge with you. As she raised an eyebrow, explain that you're the host of a new TV series where couples are encouraged to have quickies in lighting-speed and you want to 'test out the plot' before it airs. She's — yes — going to laugh at you — but she'll also be impressed with your creativity. You can then begin the process of undressing her — quickly! — and sit her up on the table. Or if you're feeling dirty, bend her over. Even if you're in lounge clothes or you'ven't undressed from your work day, the very act of doing it before the food is delivered is enough to get both of your hearts racing and your intimacy building.
Reviews
Tags