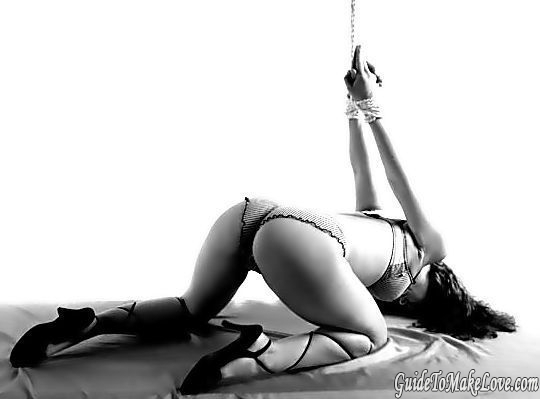 Introducing a bit more kink into your sex life be very exciting for both you and your partner. Start slowly so that you can adjust to each other's comfort zones. Communication and trust are essential for any kinky pleasures or rough play. You should make sure you discuss the things you want to try beforehand, before getting into the extreme sex you're both looking forward to.
How To Talk About It
Don't talk TOO much, though. "Certainly, spontaneity and a bit of the surprise factor make sex hot, so too much talk, like you are plotting a bad porn scene, can actually be a big let down. 'First I will do this, then you will do that' will take the fun of exploration out of the experience and the 'extreme' out of extreme sex. To overcome that becoming a turnoff, start with the acknowledgement that you feel wild, freaky, etc. and want to push the limits — but if it gets to be too much, then make sure your partner knows you will rein it in if necessary," says Farrell Timlake, owner of the world's first and oldest amateur adult entertainment company,Homegrown Video. Then, pay attention!
Bondage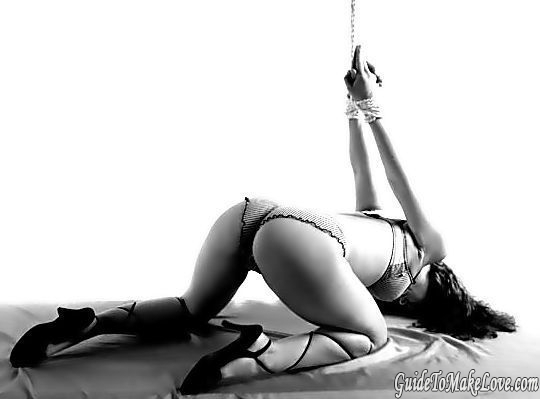 "Bondage doesn't have to take place in a dungeon with chains and whips. You can start off slowly with some sensation play," says Angela White, an Australian adult performer / producer who also ran for political office in a Victorian state election for the Australian Sex Party. She suggests you start with a couple of pieces of ribbon, tying up up your partner's hands with one and blindfolding her with the other. "Let her know that you are going to be in control of where and when she gets to feel pleasure," says White. "Then take a feather, your fingertips or even your lips and gently touch her, but focus on areas you usually miss during sex. These could be the sensitive areas behind the knees and earlobes, or between her fingers. This can really create intense sexual anticipation. Continue until she is begging for more and then ask her what she is willing to do to get it." Hey, who said extreme sex couldn't come with some mild teasing?
Spanking
Sometimes it may be necessary to read her body language because oftentimes people are too inhibited to say exactly what they are thinking, especially in matters of sex. Take spanking, for example. A cupped hand smack makes a lot of noise without much sting. That may be enough for some, but others want to feel a nice stinging slap. Building up to the level where your partner is still enjoying it without worrying about being able to sit in a chair the next day, provides a win-win, the excitement of building intensity along with the trust grown from respecting each other's limits. But that is only going to happen by staying in touch with her signals. "If she looks back at you with that WTF expression then you definitely want to pull back and massage everything back into her happy space," says Timlake. White reinforces this point: "If she is consistently moving away from your hand as you spank her, she may be at the very edge of her pain threshold. Don't increase the pressure without checking in with your partner first," she advises.
Hair Pulling
"Hair pulling can be extremely sensual and also a delicious display of power," says White. Here's her recommended approach: "Slowly slide your hand from the nape of her neck towards the crown of the head. Once your fingers are intertwined with her hair, firmly pull her head backwards exposing her throat for you to kiss and gently bite. Don't pull back too quickly or aggressively; it won't take much to control her movement and you don't want to hurt her neck. Also, remember when pulling hair always pull from close to the roots of the hair and never from the ends. Grabbing from the ends makes it more likely to break the hair follicle," White cautions. "You will also have more control over the way you turn her head from the roots."
Choking
Choking can be a very exciting component of extreme sex, but this is one area in which you must absolutely proceed with caution. "If you are inexperienced, you can easily hurt your partner," warns White. Whatever you do, don't completely cut off your partner's breathing, and be very careful if you're experimenting with this — don't try it unless she agrees to it beforehand. Consent is absolutely essential here. Still, "even just gently wrapping your fingers around her throat can be enough to enhance the fantasy," White suggests.
Threesomes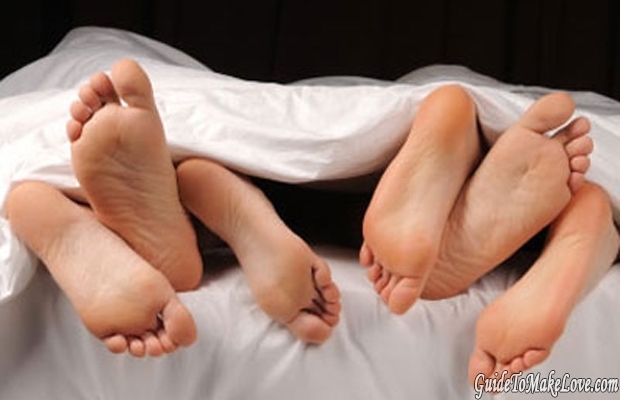 Don't make it about you. "The more selfish you are about trying to make this fantasy a reality, the farther it will slip away or the more disappointing it will be if you actually get it going," says Timlake. The goal needs to be what your partners like and are comfortable with. Wait your turn because, just like the Beatles song says, "The love you take is equal to the love you make." C'mon, we all know that hippies made orgies fun again!
Dirty Talk And Spitting
These are the kinds of things that make porn seem wild, but usually it's all just an act, and the fact is that many people would be horrified to be spit on or insulted by dirty talk, and pissed off to see any sort of marks left post sex. "This is where watching porn together might come in handy," says Timlake. Gauging what your partner reacts to positively or negatively can help chart where certain things may or may not be OK. Keep in mind that whatever you do, you have to own it; if it just looks like you're pantomiming what you saw in a porno, then that is just going to come off cheesy. Extreme sex means owning the part, not acting it.
Reviews
Tags
18 Related Posts
Related Posts